German Employment Rate Rises Near EU Record — Thanks to Women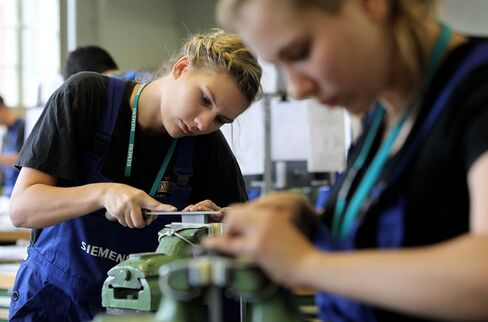 Germany has shot near the top of employment rates in Europe, thanks largely to a rise in female participation over the past 10 years.
With 78 percent of those aged between 20 and 64 in work, Germany is second only to Sweden's 80 percent in the European Union. More importantly, the country's employment rate rose 9 percentage points in the past 10 years, while in the rest of the EU it remained broadly unchanged.
Germany's renewed enthusiasm for work is being led by the female half of the population. About 73 percent of women had a job in 2014, up 10 percentage points since 2005.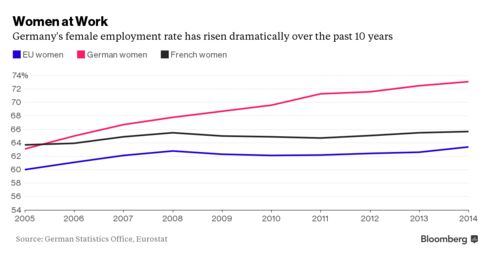 The change hasn't come without criticism. When Germany's family ministry tripled the number of nursery day care places offered, the Catholic bishop of Augsburg, Walter Mixa, said it was an attempt at turning women into "breeding machines" by facilitating their return to work after childbirth.
That doesn't seem to be the case. Women, the data suggest, have taken full advantage of the heightened labor flexibility introduced since the early 2000s, which made it easier to work part-time and flexible hours. In fact, German women work fewer hours per week than any of their colleagues in the EU, with the exception of the Netherlands.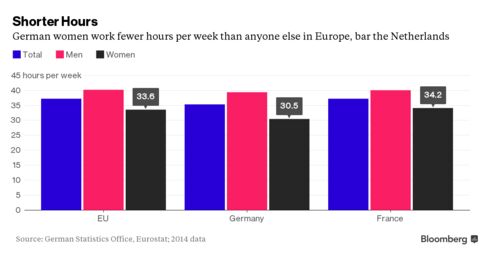 Germany's labor market continues to strengthen. Figures from the Federal Labor Agency on Tuesday showed the jobless rate dropped to 6.2% in January — the lowest level since reunification a quarter of a century ago.
Before it's here, it's on the Bloomberg Terminal.
LEARN MORE