Euro-Area Labor Market Slowly Improves as Jobless Rate Falls
Unemployment rate at 10.4%, lowest since September 2011

ECB officals considering March action to boost inflation
Euro-area unemployment decreased to a four-year low in December, an unexpected bit of good news as the European Central Bank considers increasing monetary stimulus next month to stave off deflationary threats.
The region's jobless rate declined to 10.4 percent from 10.5 percent in November, the European Union's statistics office in Luxembourg said on Tuesday. That's the lowest since September 2011. Economists forecast the rate would remain unchanged, according to the median estimate in a Bloomberg survey.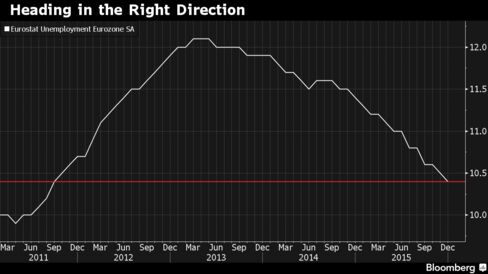 As the ECB prepares to review its stimulus policies in March because of a deteriorating inflation outlook, policy makers are also urging governments to do more to strengthen their economies and lower unemployment. The labor market hasn't fully recovered since the recession and jobless rates remain above 20 percent in Greece and Spain.
National figures published on Tuesday also pointed to the divide in the euro region. Germany's unemployment rate unexpectedly fell to a record-low 6.2 percent in January. In Italy, the jobless rate was unchanged at 11.4 percent in December, though that was a three-year low.
Data next week will probably confirm the 19-nation euro-area economy grew for an 11th straight quarter at the end of 2015. While the pace of expansion has been modest, joblessness is slowly declining.
"The job-market outlook in a nutshell is quite robust," said Frederik Ducrozet, an economist at Banque Pictet in Geneva. "For the ECB it will have little influence on the very near-term decision, in my opinion. It's more for the medium-term debate."
ECB President Mario Draghi said in January that the Governing Council will review its measures in March as collapsing oil prices threaten to push the region's inflation rate back to zero. Inflation hasn't been near the bank's goal of just under 2 percent in almost three years.
At the same time, there's a risk that economic growth may cool, threatening labor-market improvements. European sentiment indicators weakened in January in response to the global market turmoil, with Markit Economics's Purchasing Managers Index declining and a European Commission confidence measure dropping to a five-month low.
While the ECB forecasts euro-area unemployment will fall to 10.1 percent in 2017 from an average 10.5 percent this year, Executive Board member Benoit Coeure on Monday called on governments to step up reforms.
"We have always made it clear that we are ready and able to play our part," Coeure said. "But for the recovery to become structural, and thus to increase growth potential and reduce structural unemployment, monetary policy does not suffice."
Before it's here, it's on the Bloomberg Terminal.
LEARN MORE