Coca-Cola Clobbers Competition in Worldwide Soda Sales: Chart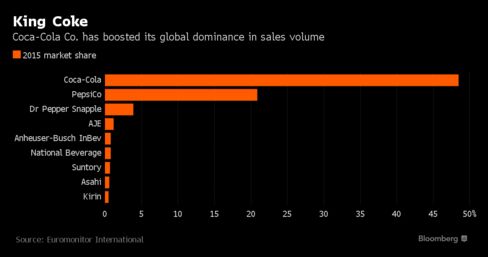 Coke is it when it comes to dominating the competition. Coca-Cola Co. increased its market share by volume to 48.5 percent in 2015, up from 45.1 percent in 2006, according to Bloomberg Intelligence, which used Euromonitor International data. The gains were due in part to the soft-drink company's well-recognized brand names, which also include Sprite and Fanta. No. 2 PepsiCo Inc. had less than half of Coke's share last year, accounting for 20.9 percent of sales.
Before it's here, it's on the Bloomberg Terminal.
LEARN MORE