Brazil's Sugar Industry Gets a Break as Profits Return for Mills
Tumbling real helping producers return to profit: Copersucar

Industry needs to be more efficient, not count on real: Bunge
Brazil's sugar industry is getting some relief as a tumbling local currency returns millers to profit in the world's largest producer of the commodity.
Mills with stable balance sheets had a profit margin of about 20 percent in the past six months, said Paulo Roberto de Souza, chief executive officer of Copersucar SA, which has 37 associate mills in the country. A weaker real benefits millers because they pay most costs in the currency while selling the commodity in dollars.
Brazil's sugar industry is at a turning point and once again the lowest cost producer in the world after a political and economic crisis sent the real down more than 30 percent last year, according to Soren Schroder, CEO of Bunge Ltd., owner of eight mills in Brazil. In the past, falling prices and stretched balance sheets caused unprofitable mills to close and made it hard for them to get financing.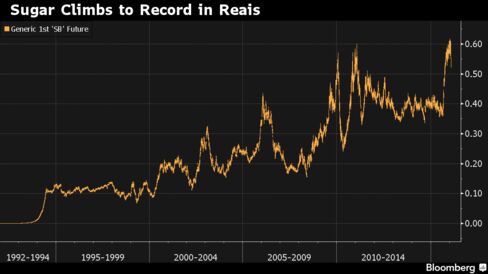 "The devalued currency will give a breather to the sector before it can boost productivity," de Souza said Sunday in an interview at the Dubai Sugar Conference, a private event for 400 people in the industry. "One or two years is the time Brazil needs to ensure it will continue to be the lowest-cost producer. We can't rely only on currency."
Sugar priced in reais is up 44 percent since a low in June and reached a record high on Jan. 4. That's a turnaround after prices touched a three-year low in 2014. The weaker real has helped cut Brazilian output costs by 8 to 10 cents a pound from a 2011 peak, according to Bunge. The full cost of making sugar in Brazil has fallen to 10 to 12 cents a pound, Martin Todd, a managing director at researcher LMC International, told the conference Sunday.
Profitable Mills
"Brazil is very profitable at this stage," Jamal Al Ghurair, managing director of Al Khaleej Sugar Co., the world's largest port-based sugar refinery, said in an interview Monday. The company buys most of its sugar from Brazil under an agreement with Copersucar. "They've never had it better than now" and the real will probably get weaker, he said.
Even though mills have been profitable in the past six months, banks that cut funding haven't resumed lending, according to Copersucar. There needs to be a longer period of better prices to attract investments, de Souza said. Bunge's Schroder said prices need to be 14 to 16 cents a pound as an incentive for existing mills to expand, and higher than that to encourage new projects. Raw sugar was at 13.09 cents in New York Monday.
"When we talk about growth, that depends on financing and financing is still not available," de Souza said. "Without financing, nothing is going to happen."
Efficiency Needed
The world will need Brazil to increase production to meet demand set to rise by 48 million tons in the next decade, according to Bunge's Schroder, who declined to comment on whether the company still plans to sell its assets in the nation. Brazil is the most efficient location to produce sugar, said Alexandre Luneau, executive vice president of market risk management at Tereos, which owns seven mills there.
"We are very committed to Brazil," Luneau said in an interview in Dubai Monday. "We continue to believe that Brazil plays a big part in the future of the sugar industry, that returns will come back."
Brazil's millers need to become more efficient to sustain profits when the real strengthens, according to Bunge, which estimates that 47 mills closed in the past three or four years. Even if farmers boost cane planting, Bunge says Brazil's sugar and ethanol industry won't expand processing capacity fast enough to meet rising global demand.
"There's plenty of opportunities in Brazil to continue to improve efficiencies," Schroder said. "We have to think of a way to ensure long-term viability even as things return to more normal patterns, and with that hopefully create the appetite for investment in the Brazilian cane-milling industry, which is what the market needs."
Before it's here, it's on the Bloomberg Terminal.
LEARN MORE