S&P flagging further rating cut puts focus on dividend, capex

Biggest miner says seeking to protect `strong balance sheet'
If BHP Billiton Ltd. can't assure credit assessors this month it's able to bolster its balance sheet amid the global commodities rout, the world's biggest miner may lose its prized rating status.
With Standard & Poor's and Moody's Investors Service both contemplating downgrades, analysts are debating how much the Melbourne-based metals and energy producer needs to cut payouts to shareholders when it reports half-year financial results on Feb. 23. Pressure is growing for BHP to abandon its progressive dividend policy, reassess capital spending and even consider a share sale.
BHP's credit rating was this week lowered one step by S&P to A, a level unseen since 2003, and the agency said action on capital expenditure and dividends will dictate whether a further reduction is warranted. A drop below the sixth-highest grade would put BHP beneath the "solid A" level it has pledged to defend amid supply gluts and waning demand from China for iron ore, coal and other commodities.
"S&P has put their cards on the table, and it's a matter of who is going to blink first," said Scott Rundell, chief credit strategist at Commonwealth Bank of Australia in Sydney. The action effectively means "a downgrade has already been flagged to the company, and the company then has the opportunity to come up with a solution to prevent that downgrade," he said by phone.
Falling Profits
Plunging raw materials prices are eroding profits for commodities producers and forcing them into action. Glencore Plc has accelerated debt repayment plans, flagged asset sales and scrapped dividend payouts. Freeport-McMoRan Inc., the biggest publicly traded copper producer, is open to selling any of its operations to help combat the slump, while Anglo American Plc has set out plans to reduce its headcount to 50,000 from 135,000.
BHP "has the strongest credit rating in the sector and remains committed to maintaining its strong balance sheet through the cycle," the producer said Monday in a statement in response to the S&P downgrade. Chief Executive Officer Andrew Mackenzie said last month the company is seeking to maintain "the financial flexibility to manage further volatility."
Downgrade Risk
The risk to BHP of a further downgrade from S&P will depend on whether it retains a policy of maintaining or raising dividend payouts at a time when cash flows are being pressured by lower prices, the rating company said Monday in its statement.
"S&P has effectively given them a timeline for when they expect cuts to capex and changes to its dividend policy," said Anthony Ip, a credit sector specialist at Citigroup Inc. in Sydney.
Investors have driven up the cost of insuring BHP's debt against nonpayment. The cost of protecting BHP bonds with credit-default swaps climbed to an almost seven-year high of 270 basis points last month and was at 231 basis points on Monday, according to prices from data provider CMA.
The yield premium on BHP's A$1 billion ($708 million) of March 2020 bonds over the swap rate widened to 189 basis points as of 5:30 p.m. on Tuesday in Sydney, based on Commonwealth Bank of Australia prices. The difference was 87 basis points when the securities were sold in March 2015. Investors holding the debt have lost 0.5 percent in the past three months, based on the Bloomberg AusBond Credit Index.
Holders of BHP's U.S. dollar-denominated bonds have lost 9.5 percent in the 12 months through Feb. 1, Bank of America Merrill Lynch index data show.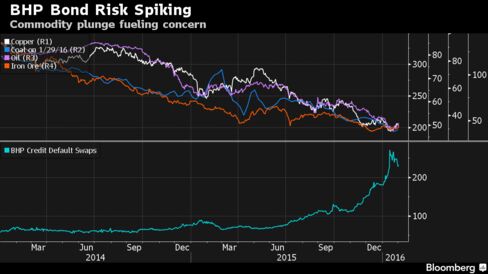 Moody's, which rates BHP at its fifth-highest level of A1, also has the firm on review for downgrade, while Fitch Ratings has it at the equivalent A+ with a negative outlook. The producer targets ratings of A+ or A from S&P, and A1 or A2 from Moody's, it said in August.
While a cut to A- at S&P would breach BHP's target of a "solid A" rating, it would be unlikely to affect the company's operations or ability to tap debt markets, Commonwealth Bank's Rundell said. "It won't materially impact their business and probably gives them more flexibility through the cycle."
Before it's here, it's on the Bloomberg Terminal.
LEARN MORE