ADM Reviewing Use of Capital After Earnings Disappoint
`Current headwinds likely to persist,' CEO Luciano says

Stock tumbles most in four years; corn dry mills under review
Archer-Daniels-Midland Co., the world's largest corn processor, is reviewing how it allocates capital across its business after profit missed estimates by analysts for the second straight quarter amid lower margins on grain exports, ethanol output and soybean products. The stock fell the most in four years.
Profit excluding certain items in the fourth quarter fell to 61 cents a share from $1 a year earlier, Chicago-based ADM said Tuesday in a statement. The average estimate of 11 analysts compiled by Bloomberg was 64 cents. The company said it plans to review options for its corn dry mill business.
"With current headwinds likely to persist, we remain focused on the areas within our control," Chief Executive Officer Juan Luciano said in the statement. "We are taking a fresh look at the capital intensity of our operations and portfolio, seeking innovative ways to lighten-up and redeploy capital in our efforts to drive long-term returns."
In 2016, ADM's "balanced capital allocation" includes a quarterly dividend rate increase of 7 percent to 30 cents a share and stock repurchases of $1 billion to $1.5 billion depending on capital requirements, Luciano said. The company plans to "remain opportunistic" for investments, including deals in its primary businesses, while it aims for incremental savings of $275 million this year.
ADM tumbled 7.7 percent to $32.72 at 10:28 a.m. in New York. A close at that price would mark the biggest drop since Aug. 8, 2011.
There's no clear time line on the review of the corn dry mill business, Luciano said on a conference call.
The adjusted return on invested capital for 2015 declined to 7.3 percent from 9 percent, the company said.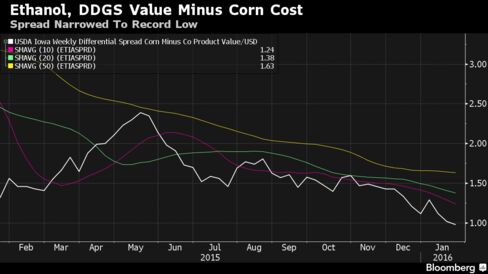 Many of ADM's businesses were affected by "adverse market conditions" that persisted in the fourth quarter, Luciano said. Sales fell 21 percent to $16.4 billion. The estimate by analysts was $19.3 billion. Net income rose to $1.19 a share from $1.08, including the sale of its chocolate business to Cargill Inc.
Consensus estimates in 2016 probably will decline "given that the key headwinds the company faces are unlikely to abate anytime soon," Morgan Stanley said in a report.
The stronger dollar made U.S. exports less competitive amid ample global harvests, curbing results in agricultural services, the business that buys, stores and transports crops and ADM's biggest segment by sales. Low prices limited grain trade, and transportation results declined as lower U.S. exports reduced barge rates and volumes, ADM said.
U.S. corn inspected for export, a measure of shipments leaving ports, fell about 25 percent in the fourth quarter from a year earlier, according to government data compiled by Bloomberg.
ADM's corn processing was hurt because of lower crude-oil prices and grain-based ethanol margins.
Profit from the oilseed segment, ADM's biggest by operating income, declined amid lower soybean-crush margins. That profit measure slumped as global oilseed output climbed to a record amid an increase in the capacity to produce vegetable oil and animal feed.
Global crush margins fell in the fourth quarter partly amid "anticipation" of more-competitive Argentine soybean meal in the market, ADM said.
Before it's here, it's on the Bloomberg Terminal.
LEARN MORE