Repsol Seen Cutting Spain's Best Dividend, Future Contracts Show
Futures slide as Repsol sets aside $3.2 billion amid oil rout

Energy producer has highest dividend yield among Ibex-35
Repsol SA, the Spanish oil producer that offers the country's highest dividend yield, may have to reduce the payout if futures contracts are any guide.
Contracts betting on Repsol's expected 2016 dividend sank last week, declining by a record 15 percent in just one day, after the company said it will book a charge of about 2.9 billion euros ($3.2 billion) as a provision after crude prices collapsed.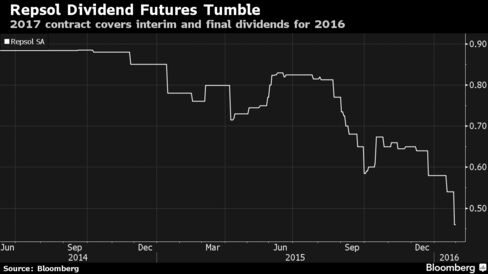 The December 2017 futures contract, which covers the interim and final dividends for the previous year, fell to 46 euro cents on Thursday from 54 cents the day before. Repsol's indicated net dividend yield -- the yield on a stock if the most recent payout is annualized -- is 8.2 percent, the highest on Spain's benchmark Ibex-35 index.
The impairment announced after markets closed on Jan. 27 is part of a widespread attempt by Repsol to bolster its finances as the global oil industry grapples with prices that dropped to a 12-year low last month. The company also announced spending reductions and increased synergies from the integration of Talisman Energy Inc., the Canadian oil producer that it acquired last year for about $13 billion.
In November, Repsol said it targets a stable dividend in its 2016-2020 business plan, in line with the average 1-euro-per-share payout of the previous plan. The company has for years offered the option of receiving scrip dividends, or a payout in stock.
Kristian Rix, a spokesman for Madrid-based Repsol, declined to comment on the dividend contract's performance.
Before it's here, it's on the Bloomberg Terminal.
LEARN MORE