Global Banking Agenda Can't Be Left to Basel, Denmark Says
Bankers and politicians in Scandinavia are preparing their next battle with the Basel Committee on Banking Supervision.
Denmark's banks and government want Europe to take a more active stand in preventing the global regulator from setting the agenda across all regions. They are backed by the main bankers' association in Sweden, the largest Scandinavian economy and home to some of Europe's best-capitalized banks.
An eagerness to implement Basel rules with relatively few adjustments has "contributed to a weakening of European bank competitiveness compared with U.S. banks," said Torsten Schack Pedersen, business spokesman for Denmark's ruling Liberal party. A more active defense of European interests in the context of global financial regulation "is of vital importance."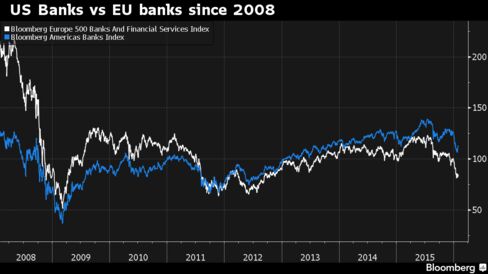 Denmark, home to the world's biggest mortgage-backed covered bond market, has been one of the more vocal critics of Basel's role in building a post-crisis regulatory framework. The country in 2014 successfully fought Basel's plan to give covered bonds a lower liquidity status than sovereign debt. Its victory means banks can hold 75 percent more of the securities than intended under Basel rules.
Allowing the 28-member committee to set the regulatory agenda "gives rise to challenges around certain European specificities not taken into account in international standards," the Danish Bankers Association said.
Banks in neighboring Sweden say a tendency to take the U.S. as a starting point when setting international rules isn't serving Europe well. Europe's banking model "is fundamentally different from the American one," the Swedish Bankers' Association said. "It is based less on servicing clients' needs for finance through the markets, and more on straightforward lending from universal banks to households and corporates."
The risk is that Basel rules are enforced in Europe "without sufficient adaptation to the structurally different underlying factors that drive risk in the European banking system," the group said.
Denmark, where Danske Bank recently surpassed Deutsche Bank AG in market value, is already engaged in its next battles. It wants to ensure that a plan to harmonize covered bond rules doesn't hurt Denmark's $400 billion home-finance system.
The country's banks also want Europe to fight Basel on a proposal targeting risk weights. They say the plan would add more than $12 billion to existing buffer requirements and argue the development will ultimately hurt Danish borrowers.
Early indications show Brussels may take an accommodating stance. Jonathan Hill, the European Union commissioner in charge of financial services policy, said on Monday he isn't pursuing a single rule book for the covered bond market.
Karsten Beltoft, director of the Danish Mortgage Banks' Federation, characterized Hill's comments as "promising." But Ane Arnth Jensen, head of the Association of Danish Mortgage Banks, said the battle is far from over.
"In processes like these -- and we're not done yet, we're only at the beginning -- there's always a risk," Jensen said.
In Sweden, which also has a large covered-bond market, the bankers' association is urging the EU to think twice before again "more or less automatically implementing global standards coming from Basel or the Financial Stability Board."
Before it's here, it's on the Bloomberg Terminal.
LEARN MORE