Ecelbrus's Khmelnitski buying Sberbank, Lukoil and Gazprom

Volatility is great `when you know how to play it,' he says
Price swings in the Russian market, now the most volatile in the world, have been a curse for many a foreign investors. Not Ecelbrus Capital Investments Ltd.'s Anton Khmelnitski.
In mid-January, when volatility in Russian equities hit levels unseen since the August global rout, he decided it was the best time to buy. Over the past 12 months he has boosted his position in the country's stocks from 8 to 60 percent of his portfolio.
"My take was that the market was pricing a disproportionate level of risk compared to the reality," Khmelnitski, whose Elbrus Fund returned 11 percent in 2015, said by phone from Kiev last week. "Volatility is a great thing when you know how to play it."
Russia is experiencing the widest price oscillations among more than 90 equity indexes as the country's assets mimics the whipsaw moves in oil, where weekly losses of as much as 14 percent were followed by double-digit gains. This climate fostered panic among investors, pushing Russian equities to levels unseen since 2009.
The market was "clearly" overreacting, said Khmelnitski, who manages $32 million. He predicts stocks will rebound as oil starts to climb again.
Volatility Spike
The dollar-denominated RTS Index rallied 7.8 percent last week in the biggest weekly gain in two months. The 10-day historical volatility soared to 71 percent, the highest since December 2014. The index has gone from being the world's sixth-most volatile, in October, to occupying the top spot a mere three months later.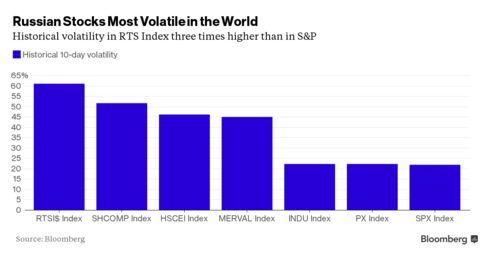 That plays right into the hands of Khmelnitski, who bought the global depositary receipts of the world's largest natural gas producer Gazprom PJSC as the security traded at levels close to a 2003 low. He did the same for Sberbank PJSC, Magnit PJSC and Lukoil PJSC. When investors were dumping stocks in droves back in August, the hedge fund manager allocated a "significant" amount of his capital to Russia. He also holds stocks of Hungary, Ukraine and Poland.
Russia is a risky proposition these days. The world's second-biggest oil producer after Saudi Arabia is about to enter a second year of recession after crude prices continue their downward spiral and the central bank warned it may tighten monetary policy.
Khmelnitski is still not worried.
"We are not about to go into a systemic crisis," he said. "The magnitude of the selloff is too high, but the volatility that the selloff created is a good way to make money."
Before it's here, it's on the Bloomberg Terminal.
LEARN MORE