Iran Cancels London Summit for New Oil Deals
Lack of U.K. visas slows efforts to pitch new oil contracts

Protests outside oil ministry trigger arrests, agency reports
Iran canceled a London conference to promote new contracts for global oil companies, two weeks after economic sanctions were lifted, because the British government hasn't been able to issue visas for Iranians to travel, an official told the weekly Iranian magazine Seda.
The ministry spent the past two years working on a new model contract, in which fees paid to international companies will be linked to the oil price and determined on a sliding scale, with riskier developments paying more.
The London event in late February was meant to woo foreign companies that were unable to attend a November 2015 conference in Tehran at which officials unveiled projects under the new terms.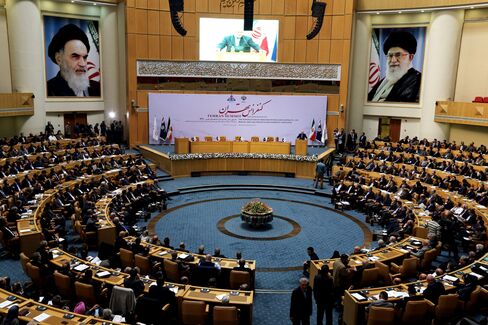 The U.K. government has issued visas "for a limited number of individuals," Ali Kardor, deputy for investment and finance at the National Iranian Oil Company, said in a separate interview with the oil ministry's news service, Shana. "While a large number of private sector representatives were eager to take part in this (conference), given that for now the British embassy doesn't have a visa service, this won't be possible." As a result, the conference was canceled.
The U.K. foreign ministry, reached by telephone in London, didn't have an immediate comment on the Iran visas.
With the lifting of sanctions tied to its nuclear program, Iran is hoping to draw as much as $50 billion of foreign investment a year and is expecting to see the return of major oil companies such as Italy's Eni SpA and France's Total SA.
Kardor said that "a team of experts is currently working intensively to assess the details of the contracts," according to Shana.
Outside the oil ministry building on Saturday, several members of the student's wing of the volunteer Basij militia were arrested after they clashed with security forces during a protest against the new oil contracts, the semi-official Tasnim news agency reported, citing a Basij official.
The official, identified as Hassanloo, told Tasnim there was a "severe confrontation" between security and the protesters, some of whom were chanting "give us back our oil" and "cancel the IPC", referring to the Iran Petroleum Contract, the name given to the new contracts by the oil ministry.
Asked if canceling the conference had anything to do with opposition to the oil contracts, Kardar said, "it does not and it is only due to the lack of visas."
The London conference was proposed in February 2014 when Iran announced it would be designing new contracts for foreign investors. It had already been postponed four times.
Before it's here, it's on the Bloomberg Terminal.
LEARN MORE