Shares of These Companies Are Moving As the Zika Virus Spreads
How news of the virus is affecting the markets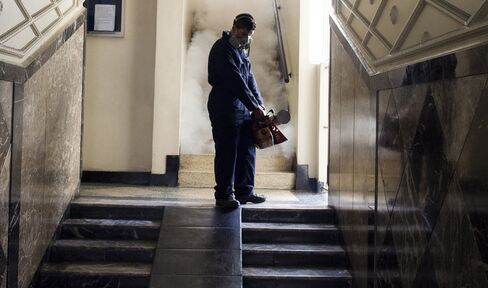 Fears are mounting as the mosquito-borne Zika virus spreads to 23 countries in the Americas, with the World Health Organization forecasting a potential 3 million to 4 million cases of the virus in the region.
Here's a quick glimpse at some stocks that are moving.
Inovio Pharmaceuticals, Inc., which is developing a DNA-based vaccine for preventing and treating the Zika virus infection. The company is targeting testing in humans this year, CEO J. Joseph Kim told Bloomberg News in a phone interview Jan. 28. Shares have gained 32 percent this week.
GeneOne Life Science Inc., which is collaborating with Inovio Pharmaceuticals on developing vaccines for Zika, Ebola, and MERS. The stock surged 46 percent this week.
Cerus Corporation, which makes Intercept Blood System as a way to proactively combat against transfusion-transmitted infections. Intercept is "crucial" for the inactivation of Zika and other emerging pathogens, Cowen analyst Joshua Jennings wrote in a research note Jan. 28. Shares rose 4.6 percent in the past two days, paring this week's decline to 2.5 percent.
Intrexon Corporation, whose Oxitec unit is genetically modifying male mosquitoes so that their offspring die young. The shares gained 5.5 percent this week.
Royal Caribbean Cruises Ltd., a global cruise company. Shares rebounded after Stifel recommended buying cruise names ahead of Royal Caribbean's earnings release on Feb. 2. Zika concerns seem overdone, Stifel analyst Steven Wieczynski wrote in a research note Jan. 28. The stock has fallen 4.4 percent this week.
Before it's here, it's on the Bloomberg Terminal.
LEARN MORE