Russia Bonds Fall as Central Bank Warns of Monetary Tightening
Goldman says central-bank rate decisions function of oil price

Currency weakening and inflation worry overtakes easing cycle
Russian government bonds erased gains and the ruble strengthened after the Bank of Russia warned it may tighten monetary policy if inflation risks increase.
Five-year local government bonds fell, lifting the yield seven basis points to 10.31 percent the biggest selloff in more than a week, while the ruble gained 1.5 percent to 75.2780 against the dollar as of 7:07 p.m. as Brent crude advanced 2.3 percent.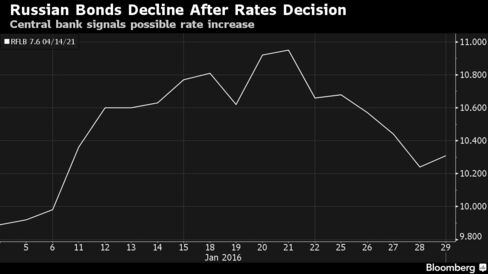 The central bank kept its benchmark borrowing gauge on hold at 11 percent for a fourth meeting and said it's prepared to raise rates in the event inflation quickens. Since September, policy makers have avoided rate cuts that would be welcomed by bond investors and provide relief to Russia's ailing economy to keep a lid on consumer prices rising at a rate of 12.9 percent and under pressure from a weak ruble.
Bond investors "would prefer a scenario with rates on hold followed by modest easing," Dmitri Petrov, a London-based analyst at Nomura International Plc, said by e-mail. "The statement came in somewhat more hawkish than we expected."
Biggest Downturn
Russian government bonds known as OFZs have gone from first to worst in developing market debt as a volatile currency thwarts pledges by the Bank of Russia to ease policy. They have handed investors a loss of 5.3 percent this month, the biggest downturn in emerging markets, after gaining 12 percent in 2015, data compiled by Bloomberg show.
The central bank has pledged to undo an emergency rate increase to 17 percent in December 2014 to stem capital outflows as Russia's financial system seized up, and is still forecast to shave 175 basis points from borrowing costs by the end of the year, according to the median of 20 estimates in a Bloomberg survey.
"The bank wanted to show some concerns with the pace of the currency weakening and inflation expectations," Viktor Szabo, who helps manage $12 billion of emerging-market debt for Aberdeen Asset Management Plc in London, said by e-mail.
Policy makers today retracted their pledge to continue monetary easing, warning instead of a possible rate increase. They also acknowledged that risks have grown that inflation may "deviate" from their 4 percent target in late 2017. Goldman Sachs Group Inc. economists Clemens Grafe and Andrew Matheny said that the central bank's rate decisions are now "a function of oil prices, which makes it rather difficult to forecast."
Last year's rally in OFZs is "very unlikely to be repeated since they were based on very aggressive rate-cut bets," Stephan Imre, a Vienna-based economist at Raiffeisen Bank International AG, said by e-mail. "Based on today's central bank on-hold decision, we rather expect the central bank to extend the rate-cutting pause. Gains for short-end OFZs are therefore limited." Raiffeisen has a hold recommendation for OFZs.
Before it's here, it's on the Bloomberg Terminal.
LEARN MORE