Kuroda Stock Rally Gone in 28 Minutes, Before Making a Comeback
This time, Haruhiko Kuroda's stock rally lasted just 28 minutes. At first.
The Topix index soared as much as 3.1 percent after the Bank of Japan at 12:38 p.m. unexpectedly adopted a negative interest rate policy -- but by 1:06 p.m. in Tokyo, those gains were all gone, with the share gauge sinking as much as 1.6 percent to the day's low. The measure then restored almost all of the advance, closing 2.9 percent higher.
"I'm repeatedly going through it, and it's still not clear. It's not easy to understand," said Stefan Worrall, director of equity cash sales at Credit Suisse Group AG in Tokyo, about the BOJ's statement. "The problem is that it looks too finicky. It looks like it's a convoluted manipulation of the very limited remaining tools that the BOJ has at their disposal."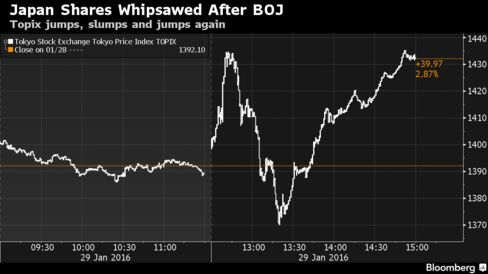 This is unfamiliar territory for BOJ Governor Kuroda. The last times he made major policy announcements -- the unveiling of a bond-buying program in April 2013 that was dubbed the bazooka, and then extra stimulus in October 2014 -- Japan's investors greeted them with unabashed enthusiasm. And both decisions were followed by sustained equity rallies, underpinned by confidence that the easing would bolster the economy and that a weaker yen would drive earnings higher.
A gauge of real estate companies soared 9.5 percent to lead gains on Friday, followed by brokerages and energy explorers. Banks were the only Topix industry group to decline, with concern the policy change will crimp profits driving Mitsubishi UFJ Financial Group Inc. down 2.8 percent. Negative rates "can negatively affect the earnings of financial institutions," the BOJ said in its statement.
MUFG and Toyota Motor Corp. were the most traded companies in Tokyo as volume soared, with more than 4.4 trillion yen ($36.4 billion) of shares changing hands. That was the most since August, exchange data compiled by Bloomberg show.
Split Decision
The board was split 5-4 on the decision to set an interest rate of minus 0.1 percent on a portion of the current accounts held by financial institutions at the central bank. The change takes effect on Feb. 16, the BOJ said Friday at the conclusion of a two-day policy meeting. Kuroda speaks at a press conference this afternoon.
"It's surprising that it's been introduced," said Kazuhito Suzuki, a senior strategist at Shinkin Asset Management Ltd "If the yield curve overall decreases, the lower rates will support the economy and weaken the yen. It'll be positive for stocks through corporate earnings. That said, the introduction of negative interest rates is a first, so we need to keep confirming what impact it has."
Kuroda Surprises
Kuroda surprised markets last month with tweaks to the central bank's stimulus program including establishing an additional budget for purchasing exchange-traded funds. Stocks jumped after that announcement before reversing gains. The BOJ last extended its quantitative easing program in October 2014, in a move that also surprised economists and investors.
Japanese stocks have tumbled in 2016. The Topix was down 10 percent through Thursday's close after making the worst start to a year on record, with shares buffeted by concerns about a slowdown in China and a rout in commodities that sent oil to a 12-year low.
"We've been selling hard all the way in this year and now it's time to pull out the quants and ask what's oversold," said Nicholas Smith, strategist at CLSA Ltd. in Tokyo. The negative rate policy "changes psychology and helps us claw our way back to inflation. It gets you pretty much in bed with Goldilocks -- this is as good as it gets."
The BOJ joins the European Central Bank and countries including Switzerland, Sweden and Denmark in adopting negative interest rates. The move is designed to "enable the bank to pursue additional monetary easing in terms of three dimensions, combining a negative interest rate with quantity and quality," the BOJ said in its statement.
"If you asked if Europe is enjoying the benefits of negative interest rates, I'd say they are not," said Ayako Sera, market strategist at Sumitomo Mitsui Trust Bank Ltd in Tokyo.
Before it's here, it's on the Bloomberg Terminal.
LEARN MORE