Kaplan Says Fed Needs Time to Judge Impact of Market Turmoil
Dallas Fed president won't speculate on fed funds rate path

Separately, Williams sees slightly slower tightening pace
Federal Reserve Bank of Dallas President Robert Kaplan said he's not ready to commit to any timing for the next increase in interest rates, emphasizing the central bank needed to assess how financial-market turbulence and economic developments abroad would affect the U.S. economy.
"There is no predetermined path, we are going to be agnostic about this, we are going to be data-dependent and I need to see more information," Kaplan said Friday in an interview at Bloomberg headquarters in New York. "I wouldn't even speculate on what the next move is."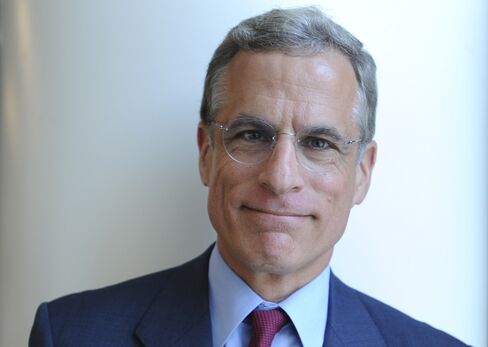 A month after ending seven years of near-zero interest rates, the Fed's quest to normalize monetary policy may be grinding to a halt amid steep drops in equities and oil since the beginning of the year. In December, the median forecast of Fed officials called for four quarter-point rate increases this year.
San Francisco Fed President John C. Williams, speaking separately on Friday, said slowing global growth and lower demand for funds has pushed down the outlook for a normal level of U.S. interest rates to between 3 percent and 3.5 percent, "somewhat lower than they were 10 years ago."
Williams said the economy has been growing at a 2 percent to 2.25 percent pace and he saw no reason to expect a recession this year.
China Slowdown
"Global growth has slowed" and China's economy is moving to a slower pace, he said in a panel discussion in San Francisco. "We have a strong domestic economy and we can basically offset that. If it weren't for these headwinds, the economy would easily be growing at 3 percent a year."
Speaking to reporters after the panel discussion, Williams said he sees a need for a little more accommodation than he did in September and now expects a "smidgen" slower pace of tightening than he did before. Raising rates is still the likely scenario, and the Fed could theoretically still have a compelling case to hike even with a lot of uncertainty, he said.
Fed officials on Wednesday kept interest rates unchanged and said they were closely monitoring global economic and financial conditions. In its post-meeting statement, the committee took a pass on its usual assessment of whether the risks to its economic outlook were balanced.
"We dropped the reference to balance on the risks -- that was deliberate -- which should send a signal that we are assessing non-U.S. economic conditions, global financial conditions and the impact of both of those on underlying U.S. economic conditions," said Kaplan, who doesn't vote on policy until 2017.
Kaplan, 58, who took over at the Dallas Fed in September, said he remains hopeful the central bank can continue to raise rates this year to reduce the risks posed by overly-accommodative policy.
"I do think it's important to be able to normalize," he said. "Excess accommodation is not free. It has costs. It creates distortions."
Recession Odds
Kaplan said an economic slump in the U.S. this year was "unlikely." The strength of the consumer and the deleveraging of household balance sheets gave him "confidence" the economy won't slow enough to have a recession, he said.
Kaplan's remarks came after the U.S. Commerce Department said gross domestic product rose at a 0.7 percent annualized rate in the three months ending in December, after a 2 percent gain in the third quarter.
In earlier news, Bank of Japan Governor Haruhiko Kuroda adopted a negative interest-rate strategy Friday to spur banks to lend in the face of a weakening economy. The move to penalize a portion of banks' reserves complements the BOJ's record asset-purchase program, including 80 trillion yen ($660 billion) a year in government-bond purchases. The move introduces a rate of minus 0.1 percent on certain excess holdings of cash.
"It has to be looked at in the context of the challenges they are facing which are really difficult," Kaplan said of Japan, where he previously lived for five years. He noted the country has an aging population and high levels of debt to GDP. "Actions they take, and experiments they do, and other innovative things to try and address those things I totally understand."
Before it's here, it's on the Bloomberg Terminal.
LEARN MORE