Japan's Bond Yields Plunge to Records on BOJ's Minus Rate Policy
Japan's bond yields dropped to unprecedented levels after the central bank adopted a negative interest-rate policy on Friday, while maintaining its record asset purchase plan.
The benchmark 10-year yield touched 0.09 percent, falling past the low of 0.19 percent set on Jan. 14, after Bank of Japan Governor Haruhiko Kuroda's board voted 5-4 to put an interest rate of -0.1 percent on current accounts held at the bank. The BOJ pledged to keep increasing the monetary base at an annual pace of 80 trillion yen ($666 billion), primarily by continuing to purchase Japanese government bonds, exchange-traded funds and real estate investment trusts.
"With the adoption of negative interest rates, we now go side-by-side with the euro area in implementing quantitative easing and negative rates," said Naoya Oshikubo, a rates strategist at Barclays Plc in Tokyo. "We've seen bull-flattening mainly in the super-long JGBs, but for now we will see some steepening mainly in the shorter-term zones."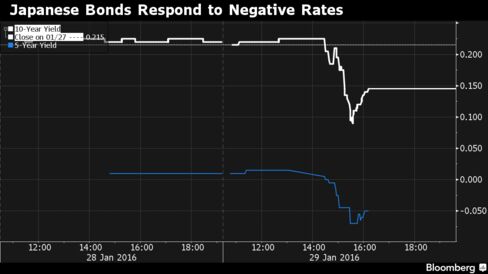 Two- and five-year yields also set all-time lows, at minus 0.085 percent and minus 0.08 percent, respectively.
Benchmark 10-year yields were at 0.115 percent as of 2:40 p.m. in Tokyo Friday from 0.22 percent on Thursday. The price rose 1.034 to 101.807, according to Japan Bond Trading Co., the nation's largest inter-dealer debt broker.
Before it's here, it's on the Bloomberg Terminal.
LEARN MORE