AbbVie's Biggest Product Humira Narrowly Misses Estimates
Humira had biggest-ever quarter, still came in short

Shares decline 3.9 percent to $53.66 before markets open
Sales of AbbVie Inc.'s biggest product, the rheumatoid arthritis injection Humira, narrowly missed analysts' estimates in the fourth quarter, sending the shares down 3.9 percent in early trading.
Humira sales rose 11 percent to $3.72 billion, the biggest-ever quarter, yet just under the $3.73 billion average of analysts' estimates compiled by Bloomberg. While the drug continues to grow, sales are expected to erode as cheaper alternatives, known as biosimilars, come on the market. The U.S. Food and Drug Administration accepted Amgen Inc.'s application for a biosimilar version of Humira in January.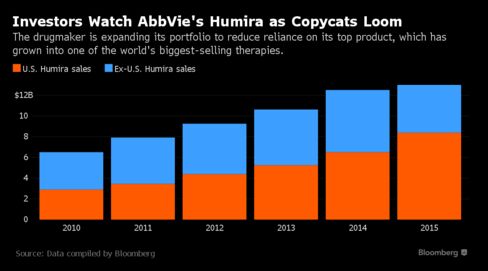 Net income rose to $1.52 billion, or 92 cents a share, for the quarter, compared with a loss of $810 million, or 51 cents, a year ago. Profit excluding one-time items was $1.13 a share, compared with analysts' estimates of $1.12.
Biosimilars may arrive first in Europe, and AbbVie estimates competition from them will begin in late 2018. In the meantime, the North Chicago, Illinois-based company has been seeking to diversify away from Humira, which accounted for 63 percent of sales in 2014. The drugmaker gained Imbruvica, a cancer treatment, in its acquisition of Pharmacyclics Inc. and has developed a hepatitis C treatment, Viekira Pak.
Total revenue rose 17 percent to $6.4 billion, matching analysts' estimates of $6.37 billion. That included:
Viekira Pak sales of $554 million, compared with estimates of $569 million
Imbruvica sales of $343 million, compared with estimates of $348 million


AbbVie said its adjusted operating margin in 2015 widened by 6.1 percentage points from the previous year.
Before it's here, it's on the Bloomberg Terminal.
LEARN MORE