Vedanta Defies Commodity Collapse to Post Surprise Profit
Shares rally as analysts had forecast loss in the quarter

Chairman Agarwal bets on commodity markets recovery in 2017
Vedanta Ltd. posted an unexpected profit in the third quarter as India's biggest producer of aluminum and copper countered a slump in commodity prices by cutting costs. The shares surged the most in more than three months.
Group net income slumped to 179.1 million rupees ($2.63 million) in the three months to Dec. 31 from 15.9 billion rupees a year earlier, the unit of London-listed Vedanta Resources Plc said in a statement on Thursday. Analysts projected on average a loss of 1.04 billion rupees. While sales fell 23 percent to 148 billion rupees in the quarter, it exceeded analysts' estimates of 144.9 billion rupees.
Shares of Vedanta have slid 25 percent this month as the rout in commodities from base metals to crude oil and iron ore deepened amid forecasts for the Chinese economy to grow at the slowest pace in a generation. The parent company has cut costs and reduced overall expenditure by as much as 25 percent to counter the slump while betting on a recovery, Chairman Anil Agarwal said last week.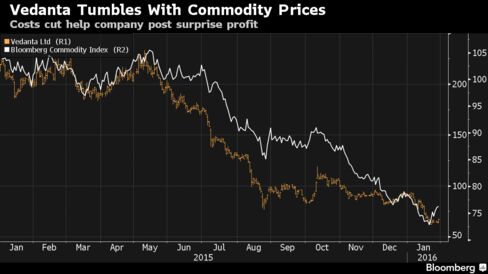 "The turnaround in metals and oil prices is just around the corner," Vedanta's Chief Executive Officer Tom Albanese told reporters on a conference call. "A number of our cost initiatives have not been fully reflected in our financials in the third quarter. We would expect that many of our initiatives to result in lower costs, particularly for the aluminum business" in the fourth quarter, he said.
Cost Cuts
Vedanta's total costs fell 12 percent to 135.4 billion rupees in the third quarter, while other income rose 35 percent to 5.79 billion rupees, the company said. Gross debt stood at 809.52 billion rupees at the end of December, while cash and liquid investments totaled 506 billion rupees, it said. The shares rallied 5.5 percent to 67.30 rupees by 3:30 p.m. close in Mumbai, the biggest gain since Oct. 12.
Vedanta's earnings will continue to be under pressure as the commodity outlook remains cautious on slowing Chinese consumption and the macro environment globally, Batlivala & Karani Securities India Pvt. Ltd. said in a report after the earnings.
Vedanta's inability to mine enough bauxite has forced its aluminum smelters to operate below capacity, while courts have limited the amount of iron ore it can mine. Three-month copper prices on the London Metal Exchange fell for a sixth straight quarter to cap a third annual loss in 2015. Aluminum tumbled 19 percent last year while an index of six metals on LME declined 24 percent.
Recovery Bets
Commodities markets will recover next year after a spell of consolidation in 2016, with zinc and aluminum rebounding the fastest, Agarwal said on Jan. 22. Global miners have been hammered by the slump in prices with Glencore Plc and Anglo American Plc selling assets and cutting spending, and producers from Africa to China paring output.
Cairn India Ltd., Vedanta's crude oil unit, posted a 99 percent decline in third-quarter profit to 86.9 million rupees as prices collapsed to near 12-year lows. Net income at Hindustan Zinc Ltd., of which Vedanta owns 64.9 percent, slid 24 percent to 18.1 billion rupees in the third quarter, it said on Jan. 21.
Vedanta expects its merger with Cairn India to be completed by the second quarter of calendar year 2016, with shareholder and creditor meetings to be convened in the current quarter, it said.
Before it's here, it's on the Bloomberg Terminal.
LEARN MORE