Vale Largess Drained by Rout as Miner Signals Dividend Halt
Co. is latest raw materials giant to take scalpel to dividend

Vale says it wants to better align policy with today's market
Once the most generous payer of dividends among major miners, Vale SA is set to join the ranks of producers abandoning payments as a safeguard against a deepening commodities collapse.
The world's biggest iron-ore and nickel producer will seek board approval to set a minimum payment equal to zero for 2016 and to better align dividend policy with today's raw material environment, it said in a regulatory filing Thursday. Proposed policy changes, details of which weren't given, will also be subject to approval at an April shareholders meeting.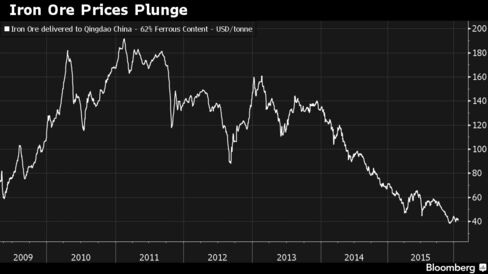 "As the year progresses and we have more clarity on the market scenario, the board of directors may decide on the distribution of some remuneration to shareholders, provided that there is sufficient cash flow generation," the company said.
Vale, which disbursed $1.5 billion last year and $4.2 billion in 2014, is the latest commodities giant to take a scalpel to its dividend. The Bloomberg Commodity Index is at the lowest level in more than 20 years after metal and energy prices collapsed amid weaker demand in China. In September, Glencore Plc suspended dividends as it seeks to reduce its $30 billion in debt.
Too Risky
The Rio de Janeiro-based miner is trying to contain costs and spending as it grapples with the slide in prices, the costs of November's deadly dam breach at its joint venture with BHP Billiton Ltd. and finishing the iron-ore industry's biggest project, called S11D. Standard & Poor's cut the miner's credit rating and signaled in a statement Friday that it may lose its investment-grade status.
"It would just be too risky to assume a recovery in commodity prices or to finance dividends with additional leverage," BTG Pactual analysts wrote in a note to clients Thursday."Thus, we applaud the decision."
Shares of Vale fell 1.3 percent to close at 7.09 reais in Sao Paulo on Thursday. The stock lost 58 percent in the past 12 months. Vale's bonds due 2022 were little changed at 69.7 cents on the dollar at 6:51 a.m. in New York on Friday. The notes are down from 95.8 cents a year earlier, with yields surging to 12 percent from 5.1 percent.
Prices of iron ore, the biggest contributor to Vale's profit, has averaged $42 a metric ton this year, a far cry from the more than $130 average in the 2011-2014 period. Ore with 62 percent iron content delivered to the Chinese port of Qingdao declined 1.2 percent to $41.92 a dry ton on Thursday, according to a price index compiled by Metal Bulletin.
A slowdown in China restricts demand from the biggest user while the dominant producers, Vale, Rio Tinto Group and BHP, have raised production to build market share, spurring a glut. The World Bank forecasts the raw material will post the biggest loss among metals this year as low-cost supply continues to outstrip consumption.
Just two years ago with iron ore still about $100, Vale's estimated dividend yield of 6.7 percent was the highest among the 10 most valuable mining companies, according to data compiled by Bloomberg.
Before it's here, it's on the Bloomberg Terminal.
LEARN MORE