Korean Noodle Maker's 90% Rally Is the Biggest in MSCI Asia: Chart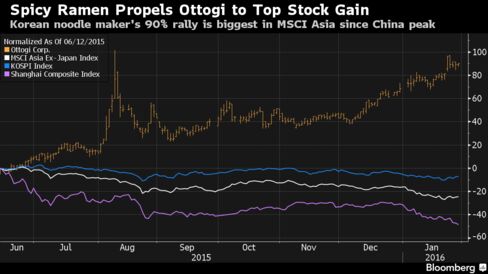 Ottogi Corp.'s instant noodles have been a hit with Korean consumers and helped make the company's shares the best-performer in the MSCI Asia Ex-Japan Index since June 12, when the Shanghai Composite Index peaked. The noodlemaker in October released Jin Jjambbong Ramen, based on a spicy Chinese seafood dish, which is forecast by Shinhan Investment Corp. to sell 10 billion won ($8.3 million) worth a month.
Before it's here, it's on the Bloomberg Terminal.
LEARN MORE