`Horror' Beneath Surface of Rallying Ruble Threatens a Recovery
Oil market remains `fragile': Union Bancaire Privee's Chow

Russian currency recoups 13 percent from Jan. 21 trough
The ruble's rebound from a record low looks fragile as swings in the price of crude threaten to scupper the rally as fast as they fueled it.
Nomura International Plc, the most accurate forecaster, and money manager Union Bancaire Privee, said the 13 percent rally in Russia's currency since it slid as low as 85.999 on Jan. 21 is prone to crumbling under the most-volatile oil prices in three months. The ruble strengthened on Thursday as Brent vacillated between a loss of 1.6 percent and a gain of 8.3 percent. Just a week before, speculators rounded on Russia's currency after the central bank said it wouldn't take action to defend it.
"I think the horror is lurking beneath the surface as the global oil market remains fragile," said Koon Chow, a strategist at Union Bancaire Privee in London. "In a few days we may return to weak oil price levels and pressure on the ruble."
Russian assets have seesawed as the price of the nation's main export earner tumbled to the lowest since 2003, threatening to keep the economy locked in recession for a second year. The ruble kept gains on Friday after the central bank left its benchmark interest rate unchanged at 11 percent for a fourth meeting, while warning it may tighten policy if inflation risks intensify.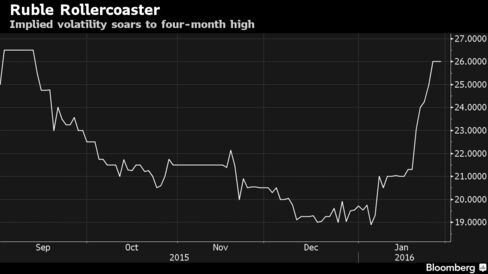 The ruble's three-month implied volatility was 26 percent yesterday, the highest in more than four months and the most of any emerging-market peer after Argentina's peso. Addressing the widening price swings, Bank of Russia Governor Elvira Nabiullina said on Jan. 22 that policy makers have tools to act "proactively" to head off threats to financial stability.
Nomura analyst Dmitri Petrov said crude, Russia's biggest export earner, could still push the ruble lower before it recovers to 70.35 per dollar by the end of the first quarter. The currency traded up 0.6 percent at 75.9480 by 1:54 p.m. in Moscow after the rates decision.
"The market is not super-convinced in the permanent nature of the oil" recovery, said Petrov, whose team's predictions were the best among 34 forecasters ranked by Bloomberg on a four-quarter rolling basis. "Oil has been very volatile. The street needs some time to absorb the big move."
Before it's here, it's on the Bloomberg Terminal.
LEARN MORE