Polish Banks Surge on Bets Government May Cap Mortgage Bill Cost
Finance Minister says conversion shouldn't overburden banks

WIG20 Index climbs to highest level in 2 weeks after comments
Polish banks surged, lifting the country's benchmark stock index to the highest level in two weeks, after comments by the country's finance minister fueled bets a foreign-currency loan conversion law won't hit lenders as hard as anticipated.
Bank Zachodni WBK SA climbed 4.5 percent to 252 zloty as of 11:43 a.m. in Warsaw, making it the best performer in the WIG20 Index on Thursday. MBank SA jumped the most in almost a week, PKO Bank Polski SA headed for the strongest level since Jan. 14, and Bank Pekao SA rallied 3 percent. The 20-stock WIG20 traded 1.1 percent up at the highest level since Jan. 15.
Poland's President has proposed a law that will set a "fair" exchange rate for converting the equivalent of $42 billion of foreign-currency mortgages into zloty in a move that could cost lenders as much as 63.8 billion zloty ($15.6 billion), according to Haitong Bank SA. A bill for less than half that amount would be "too high" for banks, Finance Minister Pawel Szalamacha said in an interview with the TVP1 television channel on Thursday.
"This is positive information for banks," Michal Konarski, an analyst at MBank SA, said by phone today. "The opinion of the government, which has to take into consideration the state budget revenue, shows the costs for banks won't be as high as initially estimated and will most likely be spread over time."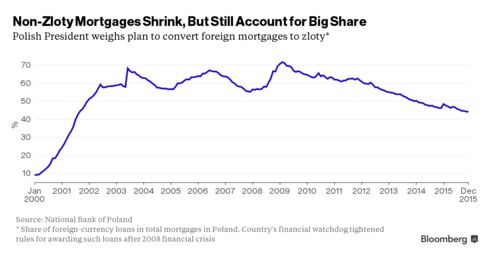 Concern the legislation will force banks to pay out billions of zloty to cover risks stemming from their foreign-currency mortgages helped drive Warsaw-listed banks to a three-year low on Jan. 20. Lenders already face a 4.4 billion zloty payment under a new banking tax this year on top of stiffer capital requirements, and increased payments into a deposit guarantee fund.
At the same time, the problem of foreign-currency mortgages "is real and it needs fixing," Szalamacha said today.
The President's draft is being assessed by the country's financial market regulator, which will calculate the more exact cost of the legislation. If it's above 20 billion zloty, the law may need to be "reviewed," Henryk Kowalczyk, an aide to Prime Minister Beata Szydlo, said on RMF radio yesterday.
Before it's here, it's on the Bloomberg Terminal.
LEARN MORE