OMV Chief Who Saw Oil Glut Coming Counts on `Cash Cow' Russia
CEO Rainer Seele looks to extend cooperation with Gazprom

Austria's oil major looking to trim costs as much as 15%
Crude prices mired near a 12-year low are pushing OMV AG, central Europe's biggest energy company, into closer cooperation with Russia in a bid to cut costs and replenish reserves.
OMV, which plans to lower spending by as much as 15 percent next year, needs to weigh staff cuts, asset sales and a pivot to countries where it's cheaper to produce oil, Chief Executive Officer Rainer Seele said Wednesday in an interview. The Vienna-based company needs to prepare for a period of low crude prices that may last until at least 2019, said Seele, who's seen Brent plunge 50 percent since he joined OMV in July from BASF SE's Wintershall unit.
"In general I have a cost position that is above the average in our industry," Seele said. "We have to look at all the cost positions to meet at least the industry standard."
Seele, 55, who was warning in 2014 of a glut that would weigh on prices, was hired to breathe new life into a company where replenishment rates stagnated even as exploration and production costs rose. To do so, he's tapping into OMV's connections with Russian oil and gas, which goes back to 1968, when Austria was the first west European country to buy Soviet gas.
In September, OMV agreed to take a 24.98 percent stake in Gazprom's giant Achimov field in Siberia, where gas is pumped from as deep as 4,000 meters (13,124 feet) below the surface. Closure of the agreement is pending a decision over which OMV assets Gazprom will get in return. OMV has also signed on to a 10 percent stake in the Nord Stream 2 pipeline running beneath the Baltic Sea from Russia to Germany.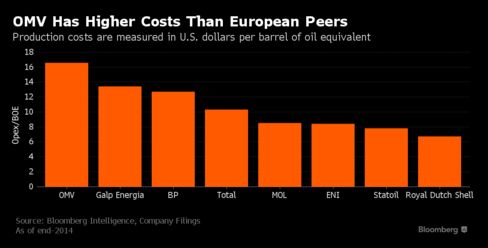 Further talks are planned around the asset swap, and Seele expects negotiations to run into the second half of this year.
Gazprom Relationship
"Russia is opening up very attractive opportunities for OMV to make the company fit for the future," said Seele, who doesn't expect terms of the asset swap to be agreed before the second quarter. "We are very much open to extend our cooperation with Gazprom."
Production costs in Russia are about a fifth of what OMV is spending in the North Sea, according to Seele, who is also the president of the German-Russian Chamber of Commerce. During his stint at BASF, Seele also swapped gas-trading and storage assets for a 25 percent stake in Gazprom's Achimov field.
Tapping into deposits like Achimov is essential for OMV, which currently relies on mature fields in Romania for most of its production. Achimov's combination of gas and liquids would give OMV reserves equivalent to five years production, Seele said.
"That's telling me a cash cow is waiting for me," Seele said. "It looks highly attractive for us if we can get it into the portfolio."
Nord Stream
OMV similarly sees the Nord Stream 2 pipeline, expected to transport 55 billion cubic meters (1.9 trillion cubic feet) a year of Russian gas into Germany from 2019 as a key component to the company's strategy in southeastern Europe. OMV has a 10 percent stake in the expansion of an existing link.
"We do have this central position over here to be the trading hub toward the southeastern European countries," said Seele, who expects gas contracts to increasingly rely on spot pricing as new liquefied natural gas enters the market. "I'm convinced that the market will call for additional gas from Russia."
In an effort to pay down debt and free up cash for new deals, OMV has also hired Citigroup Inc. to find buyers for a 49 percent stake in its wholly owned transport unit, Gas Connect Austria. A sale may fetch as much as 500 million euros.
"In these days, I love money -- that's what we need," he said.
Before it's here, it's on the Bloomberg Terminal.
LEARN MORE