Infantino Emerges From Platini's Shadow in Run for FIFA President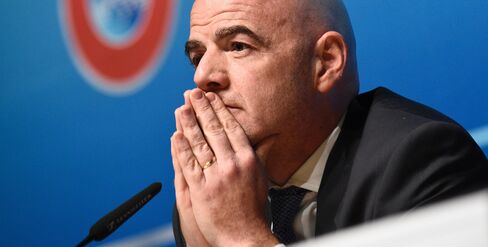 Platini's one-time No. 2 at UEFA says he's his own man

Campaign promises include bigger grants to FIFA members
Less than two years ago, when Michel Platini was the most powerful man in European soccer, he told reporters the sport should groom its future leaders from the ranks of great players -- more like Platini and, by implication, less like Sepp Blatter, the Swiss marketer who was then FIFA's president. At the time, many of the game's top executives were lifelong soccer bureaucrats, including Platini's deputy, Gianni Infantino.
"Sorry, Gianni, that means you too," Platini joked, poking at the Swiss-Italian lawyer who was his right-hand man at UEFA. Infantino nodded gamely, and chuckles spread across the room.
Today the joke's on Platini. Caught in a sprawling, international corruption investigation, Platini has been banned from soccer for eight years, ending his hopes to be FIFA's next president. (Platini has denied all wrongdoing and is appealing FIFA's ban.) Meanwhile, Infantino has emerged as a favorite to win the FIFA election on Feb. 26.
Infantino wasn't supposed to be in the race at all. He entered in October, after Platini was temporarily suspended while FIFA investigated an alleged illegal payment he received from Blatter. Infantino's entry gave European soccer officials a back-up from the continent, a placeholder while his boss tried to overturn the suspension. If Platini was cleared to run, Infantino was supposed to bow out.
Now Infantino, 45, is trying to present himself as a viable candidate on his own merits. He's his own man, he says.
"I am Gianni Infantino," he repeated no fewer than four times in a 30-minute interview in Asuncion, Paraguay, where he was attending an emergency meeting of South American soccer body Conmebol.
"If [Platini] calls me and tells me, 'We had a deal, step aside,' I would tell him no," Infantino said. "I take this seriously. If I'm elected FIFA president I'll take the position very, very seriously. It's a big, big, huge responsibility."
'Huge Responsibility'
At UEFA, Europe's governing body of soccer, Infantino was tasked with executing Platini's goals, including increasing participation in soccer's top club competition, the Champions League, and expanding the region's national team championship from 16 to 24 teams. The two attended the major finals and handed out medals, although Platini alone delivered the trophies to the winning captains. As FIFA president, Infantino would give out the biggest prize of all: the World Cup.
The rise of Infantino, whom the New York Times reported is in a two-horse race with Asian soccer leader Shaikh Salman Bin Ebrahim Al Khalifa, is a sign of a changing of the guard in global soccer. Platini had been all but anointed as Blatter's successor; Salman and Infantino only entered the race as Platini's bid fell apart.
On Monday, Infantino, and another candidate, Prince Ali bin Al-Hussein, pitched their platforms to South American officials at the Conmebol meeting. They gathered at a Conmebol-owned hotel in Paraguay, where a commemorative plaque bears the names of 11 soccer officials -- all but one who have been implicated in the U.S. criminal probe into decades-long soccer corruption.
"Football is going through a very a complicated and difficult situation," Infantino said, explaining he could have stayed in his comfortable role at UEFA, where annual revenues have grown to more than $2 billion. "The second option is to assume responsibility, show your face and try and do something to save football."
More Grants
Infantino's platform is populist, promising more development grants for FIFA's members. He also wants to stage the World Cup in multiple countries simultaneously. FIFA makes more than $5 billion from the quadrennial tournament and should devote more of it to develop the sport, he said. He's pledged to more than double the amount paid to each of the 209 member nations per four-year cycle to $5 million.
Doling out money to member organizations is one of FIFA's main functions, and during his 17-year presidency, Blatter used the coffers to shore up his own power. Infantino insists his leadership will be different. Specifically, the organization will monitor where the money goes, a marked change at a time when soccer officials from the Cayman Islands to Pakistan face FIFA investigation after millions of dollars failed to translate into improved fields and facilities.
"What I propose is not being generous -- what I propose is the minimum that should be done," Infantino said. "FIFA should be proud of generating a lot of money, but this money has to serve the development of football. Not thrown out of the window but distributed for development purposes around the world."
Before it's here, it's on the Bloomberg Terminal.
LEARN MORE