In Turkey, Bond Market Contraction Is More Bond Market Collapse
Garanti CEO plans no Eurobond sales, expects same at peers

Banks issued 90% of $5.6 billion in Turkey Eurobonds in 2015
It's been almost a year since a Turkish company sold anything resembling a benchmark bond. Now the second-biggest player in the market is calling 2016 a write-off too.
"We've no plans to issue Eurobonds this year," said Fuat Erbil, chief executive officer of Turkiye Garanti Bankasi AS, which until now has been the second-most prolific seller of foreign-currency denominated borrowing instruments. "I'm expecting pretty much the same across the sector."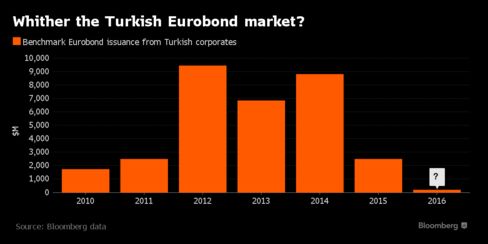 Additions to the $45 billion Turkish Eurobond market are on hold as banks scale down their lending forecasts and turn to cheaper forms of funding. The finance industry accounts for almost three-quarters of the Turkish Eurobond market. If banks don't issue it means that, in Turkey, the bond market contraction predicted for this year by JPMorgan Chase & Co. for emerging markets more closely resembles a collapse.
Erbil cites a smaller pipeline of infrastructure projects as the reason why they're not seeking this form of financing, which, while expensive, normally allows for longer borrowing maturities. The drop in project financing is mirrored by lower lending targets across the industry, with Turkiye Is Bankasi, the Eurobond market leader, guiding for an increase in loan growth that's lower than any year since the 2009 recession.
While syndicated loans are among other kinds of foreign debt that "are still flying in," according to Paul McNamara of London based GAM UK Ltd., the Garanti CEO's prognosis suggests the market for Turkish-derived Eurobonds is drying up.
Record Exodus
Last year, volumes dropped to levels not seen since 2011, when Turkish companies had just started issuing foreign-denominated bonds of a benchmark size. Negative sentiment toward emerging markets prolonged an investor exodus from Turkey, even after a repeat election in November resolved the hung parliament produced by a first round of voting in June. Foreigners sold a net $7.7 billion of Turkish government securities in 2015, a record for any 12-month period.
In 2015, only five companies issued Eurobonds of a benchmark size. While supply is just one of the factors that determine yields, an issuance drought should at least be supportive for existing holders of Turkish debt securities, says Gregory Saichin, chief investment officer for emerging-market fixed-income at Allianz Global Investors Europe GmbH. With a 9 percent market share, Allianz is the biggest owner of Turkish corporate debt.
"Volatility generated by the election process, geopolitics, domestic politics, and the weakened support from Gulf countries for Turkish paper might explain banks reluctance to come to market," Saichin said. Turkish corporate borrowing costs rose by a quarter last year, reaching as high as 457 basis points over similar-maturity treasuries, according to a JPMorgan index.
Bankers at the JPMorgan, the third-largest organizer of bonds denominated in euros and dollars last year, said at the end of December that they expect governments and companies in developing nations to cut issuance by nine percent in 2016, after a 29 percent contraction in 2015.
Before it's here, it's on the Bloomberg Terminal.
LEARN MORE