All Ex-Brokers Cleared in Libor-Rigging Trial in Blow to Fraud Office
Read found not guilty Thursday, a day after others acquitted

Brokers were accused of working with Tom Hayes to fix rates
Six ex-brokers accused of helping convicted trader Tom Hayes rig Libor were cleared in a London trial this week, with a jury Thursday acquitting a final defendant, former ICAP Plc broker Darrell Read.
Now the attention turns to the U.S., which has brought charges against three of those brokers for related conduct but stopped short of indicting them or seeking extradition. According to legal experts, the chance Justice Department prosecutors could bring them to trial after their acquittals in the U.K. is slim.
The jury in the four-month trial took little more than a day to acquit Noel Cryan, 50, who worked at Tullett Prebon Plc in London, Colin Goodman, 54, and Danny Wilkinson, 49, formerly of ICAP, and RP Martin Holdings Ltd.'s Terry Farr, 44, and James Gilmour, 50. The jury couldn't reach a unanimous verdict on 50-year-old Read -- whose family remained in their home in New Zealand -- and the judge asked them to continue deliberating Thursday. They reached a majority decision on Read.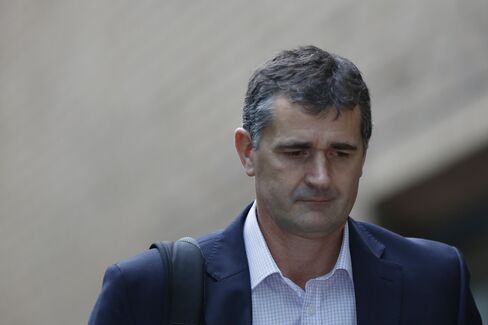 "I'm just incredibly relieved," said Read, holding back tears, after the verdict. "I'm looking forward to seeing my wife now."
The verdicts will be seen as a blow to the SFO, which appeared to have turned its fortunes around in the last 12 months. The agency has a history of botched investigations, including dropping its prosecution of British businessman Victor Dahdaleh in 2013, after accusing him of paying about 40 million pounds ($57 million) in bribes.
The Justice Department filed complaints against the three former ICAP brokers -- Read, Goodman and Wilkinson in September 2013. It could try to move forward with its case by asking the U.K. to turn them over. The U.S. issued an international arrest warrant for Read last year, suggesting the appetite to prosecute the men hadn't waned. Such a move now, however, would likely result in strong arguments they shouldn't be tried for the same crime twice, according to Paul Pelletier, a former federal prosecutor.
"After their acquittals in London, the U.S. authorities would face nearly insurmountable challenges if they now chose to seek their extradition, not the least of which would be the U.K.'s double jeopardy bar," said Pelletier, a partner at Mintz, Levin, Cohn, Ferris, Glovky and Popeo PC in Washington.
Full Vetting
The U.S., which was the first jurisdiction to file charges in the case, could decide since the brokers' conduct got a full vetting by the U.K.'s criminal justice system, there is no need to bring a case and doing so might be counterproductive for collaboration on future cases.
"Assuming the U.S. prosecution was based on the same underlying conduct, a successive prosecution would be a direct affront to the integrity of the judicial system of one of our closest allies," said Gary Lincenberg, a partner at Bird, Marella, Boxer, Wolpert, Nessim, Drooks, Lincenberg & Rhow PC in Los Angeles.
Peter Carr, a Justice Department spokesman, said the department was still reviewing the matter and hadn't made any decisions.
Shambles

"The SFO case was a complete shambles and should never have been brought," David Janes of Janes Solicitors, said Wednesday after his client, Goodman, was acquitted.
A dozen banks have been fined about $9 billion by global authorities over the last four years in relation to the manipulation of Libor, the benchmark interest rate used in trillions of dollars of derivatives and loans.
The five defendants cleared Wednesday returned to court Thursday, sitting in a group in the gallery and cheering when Read's verdict was announced.
"We've been through a lot together sitting in that box for the past four months," said Noel Cryan outside the court. "We were all in it together so it was natural to support each other."
Hayes Sentence


More than 30 individuals have been charged in Libor-related cases, and Hayes was convicted last year. The former UBS Group AG and Citigroup Inc. trader, who prosecutors alleged was at the center of a conspiracy, was jailed in August. His sentence was reduced to 11 years from 14 years upon appeal in December.
The six British men were accused of assisting Hayes manipulate the yen variant of the London interbank offered rate by lying to clients about rates or leaning on them for favors. In exchange, they were paid more than 450,000 pounds ($645,000) in kickbacks between them. They also gained the loyalty of Hayes, one of the most prolific and profitable traders in the market, according to the prosecution's case. The defendants admitted taking the money, but argued that their only vice was conning Hayes about their actions.
At the time, yen Libor was based on a survey in which 16 banks estimated their borrowing costs each morning at 11 a.m. for periods ranging from overnight to a year. By controlling the input of multiple banks, Hayes attempted to nudge the benchmark to suit his multi-billion dollar trading positions, prosecutors said. The alleged conspiracy lasted between 2006 and 2010.
'Psycho' Trader
Hayes was portrayed by several of the defendants as a controlling and emotionally volatile "psycho" who screamed down the phone and threatened to pull his business if he didn't get his way. When he was happy he threw money at the men in the form of wash trades -- controversial transactions which involve carrying out two diametrically opposing trades minutes apart for the sole purpose of generating brokerage fees.
The jury was given a rare glimpse into the colorful but fading world of interdealer brokers, the middlemen in financial markets who line up buyers and sellers in exchange for a small commission. The men spoke rapidly in lingo and gave each other nicknames like 'Big Nose' and 'Asbo.'
Several of the defendants left school at 16, drifting into the City of London via friends or family members, and starting at the bottom rung. All complained they were given no compliance training or guidance on the rules surrounding Libor, which underpins more than $350 trillion of securities around the world.
Before it's here, it's on the Bloomberg Terminal.
LEARN MORE