Global Carbon Market Faces Diplomatic Minefield in Oil Slump
UN negotiators meet in May to forge rules for emissions trade

`Real work starts' after Paris deal, Commerzbank says
After 195 nations agreed to develop the first truly global greenhouse-gas market last month, climate diplomats from China to Brazil must now haggle over how the program will work against a backdrop of the cheapest oil in more than a decade.
Negotiators have given themselves less than a year to agree on rules for a universal market-based emissions-reduction system under the Paris climate pact. To get there, they have to overcome any objections from nations reliant on fossil fuels and create a framework that covers an unprecedented range of national emissions targets.
To make the market, climate diplomats will have to convince nations they need to consume less fossil fuel amid a commodity slump that has pushed crude to a 12-year low and left coal prices at the weakest since at least 2007. Envoys are seeking a universal system for all countries, not just rich ones, to fund clean-energy projects anywhere in the world, earning tradable credits they can use for emission-reduction targets at home.
"I don't think this is going to be an easy walk," said Georg Borsting, a UN climate negotiator for Norway for 20 years. "We're establishing something that can live through shifts in energy prices. A few years from now you might have a very different landscape."
Bonn to Marrakesh
Starting May 16 in Bonn, the UN's Subsidiary Body for Scientific and Technological Advice will consider how nations can install or expand their own carbon markets. The same body plans to have "rules, modalities and procedures" for a new UN market ready for approval at a meeting in Marrakesh, Morocco, Nov. 7, according to the UN's website. Talks can be extended after that.
"The Paris deal provides the framework that allows for definition of exact rules and, ultimately, tighter emission-reduction targets," Ingo Ramming, the London-based co-head of commodity solutions at Commerzbank AG, said by phone. "Now the real work starts."
Forging the climate market is one of the tools to augment efforts to curb global warming. While the Paris summit won unprecedented commitments to limit fossil-fuel pollution from all countries, greenhouse-gas output by 2025 will still be 17 percent above levels the UN says are needed to prevent the globe's temperature rising more than 2 degrees Celsius (3.6 Fahrenheit) from pre-industrial levels.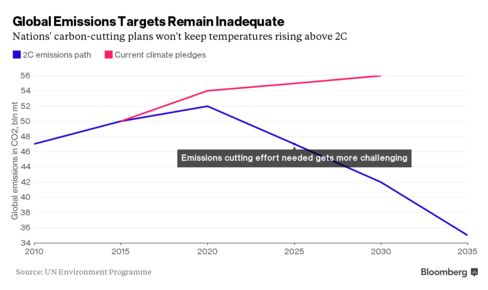 The UN's first stab at a global market hasn't gained traction. Prices collapsed 97 percent as nations failed to boost demand for credits generated by the program created under the 1997 Kyoto Protocol. In that market, about 30 developed nations with emission limits were allowed to use credits from projects ranging from wind farms to energy-efficiency programs in developing nations.
The projects probably cut emissions by 480 million metric tons in 2014, according to a report by NewClimate, an environmental research group. That's 6% of the 8 billion-ton emissions-reduction gap the UN says needs to be filled by about 2025.
"Even if the current markets look oversupplied, the truth is we have a shortage of emission reductions," said Andrei Marcu, head of the carbon-market forum for the Center for European Policy Studies in Brussels. "At some point the markets will have to catch up with what the environment is signaling."
While rules for the proposed sustainable development mechanism can be set this year, progress still faces obstacles such as opposition from fossil-fuel producing countries concerned a carbon price will discourage demand and hurt revenue, according to Renat Heuberger, who runs Zurich-based South Pole Group, a clean-energy project investor.
"Do I think negotiators will do it? Unfortunately not," Heuberger said.
New Markets
In emissions markets, allowances or credits permitting the release of greenhouse gases are traded between polluters to meet caps set by governments. The cost of the permits creates an incentive for factories, utilities and airlines to cut pollution through innovation.
The Paris deal still encourages trade outside the proposed UN market. China is preparing the world's biggest carbon trading program in 2017. California and Quebec are jointly selling emission rights, while Japan is considering a national system.
Lower fossil-fuel costs means carbon prices will probably need to be higher to shift energy-consumption patterns, according to Henry Derwent, a senior adviser at consultants Climate Strategies who also counseled former U.K. Prime Minister Tony Blair.
"Basic economics is working against the objective of making the use of fossil fuels economically unattractive," Derwent said by phone. "The stick that you wave must be bigger and bigger."
Before it's here, it's on the Bloomberg Terminal.
LEARN MORE