Electrolux Loss Smaller Than Estimated After GE Deal Fails
Appliance maker names new heads of Europe, North America

Fourth-quarter result helped by strong profitability in Europe
Electrolux AB reported a narrower-than-expected loss and departing Chief Executive Officer Keith McLoughlin appointed new regional leaders to help spur sales following the collapse of a $3.3 billion deal to acquire General Electric Co.'s home-appliance business.
The maker of Frigidaire and Molteni cookers posted an operating loss of 202 million kronor ($23.7 million), marred by the $175 million break-up fee paid to GE after antitrust regulators blocked the transaction. Analysts had predicted a 385 million-krona loss. Electrolux stock gained 5 percent, the steepest gain for five months.
Electrolux said it saw a recovery in demand across western European markets, with the best operating margin since 2010, amid increased sales of new and more profitable products such as steam ovens. Jonas Samuelson, the head of the the European major-appliances division who is succeeding McLoughlin, pledged to extend a program to improve costs upon taking over as CEO.
"Products that have been in the market for a year or more tend to go down in price and then, if you're able to launch new and innovative products at a good pace, you have the opportunity to offset that," Samuelson said in a phone interview. "That's the game, and will most likely continue to be the game."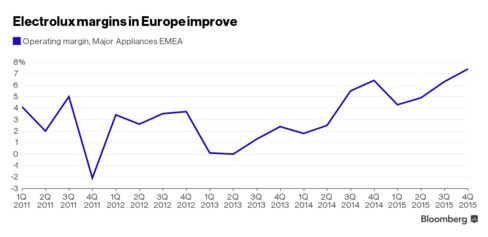 Samuelson will be replaced as head of European appliances by Dan Arler, and Alan Shaw will become head of North America, the company said in a statement. McLoughlin and Chief Financial Officer Tomas Eliasson both announced their resignations in recent weeks, and Electrolux has been without a U.S. leader following Jack Truong's resignation in April.
Back in the Hunt
McLoughlin and Eliasson, flanked by Samuelson, moved to reassure investors and analysts on a call today that the company hasn't lost pace in its hunt for acquisition targets during the 15 months it worked to secure the deal with GE.
"We are constantly in discussions with targets," Eliasson said. "It was a decision during the GE period not to stop."
McLoughlin has only days left of a tenure that ended in defeat as GE in December pulled out of a deal to sell its appliance business to the Swedish company. Instead, China's Qingdao Haier Co. quickly agreed to step in and buy the unit for $5.4 billion, potentially adding a more aggressive competitor in the U.S. appliances market. The failed purchase by Electrolux was opposed by U.S. antitrust regulators.
McLoughlin said Haier's entry into the U.S. market would have little effect in the short term.
"Long term, you could speculate that there could be changes," McLoughlin said on the call. "We just had a Chinese competitor get bigger, so that changes the competitive landscape."
Electrolux's sales in the quarter rose 1.3 percent to 31.8 billion kronor. Analysts had on average expected sales of 32.5 million kronor. Organic growth in the quarter was 0.2 percent, mainly driven by appliance demand in western Europe.
Before it's here, it's on the Bloomberg Terminal.
LEARN MORE