Economy Teetered on Brink Last Quarter as U.S. Factories Slumped
Plunge in equipment sales points to drop in business spending

Consumers remain saving grace as labor market holds up
The already severe U.S. manufacturing slump ended 2015 with a thud, raising the odds the world's largest economy stalled.
Sales of non-military machines excluding planes fell 0.2 percent last month, capping an annualized 5.8 percent drop from October through December that marked the biggest quarterly decrease in two years, the Commerce Department's durable goods report showed Thursday in Washington.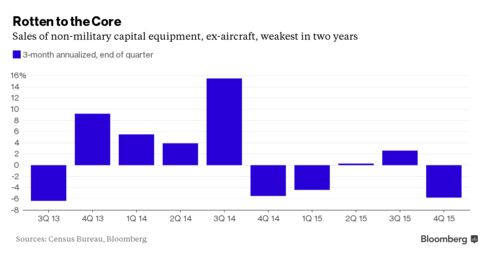 The plunge in the proxy for business investment in new equipment prompted some economists to cut forecasts for fourth-quarter gross domestic product, with a few now projecting the economy shrank. That puts greater onus on the consumer and labor market, which have been holding up, to keep the expansion moving forward.
GDP going "negative is a possibility" for last quarter, said Michael Feroli, chief U.S. economist at JPMorgan Chase & Co. in New York. "Trend growth is low, and when it's low, you get bad quarters that can be zero and below." JPMorgan lowered its GDP forecast to zero after the durable-goods report.
The Commerce Department on Friday will issue its first estimate of fourth-quarter GDP. The median projection in a Bloomberg survey calls for a 0.8 percent increase.
The figures will probably raise the anxiety level among Federal Reserve policy makers who said Wednesday they were trying to assess how the global slowdown and financial turmoil would affect growth.
If the drop in shipments of so-called core capital goods wasn't concerning enough, it was combined with an even more eye-popping 4.3 percent plunge in orders for such equipment last month that signaled business investment would remain weak in early 2016. It marked the biggest decrease since February.
Broad Decline
Bookings for machinery, computers and communications gear all suffered last month as companies looked to rein in spending. Slowing global growth, a strong dollar that makes American goods more expensive and investment cutbacks among energy companies probably are playing a role.
One thing the report doesn't highlight is whether the decrease in demand is coming from American companies or from overseas. Either way, it's not good for the economy as the latter would mean exports took a hit at the end of the year.
"Growth momentum has slowed to a crawl," said Millan Mulraine, deputy head of U.S. research and strategy at TD Securities USA LLC in New York, who also projects GDP stagnated last quarter.
Federal Reserve
Fed officials said Wednesday they are "closely monitoring global economic and financial developments" while "assessing their implications for the labor market and inflation, and for the balance of risks to the outlook" in their statement after a two-day meeting in Washington.
That signaled policy makers opened the door to a change in their outlook for the economy this year, and possibly a slower pace of interest-rate hikes that would make a move in March less likely.
The one bright spot in the economic data Thursday continued to be that the labor market shows no sign of buckling under the pressure. Fewer Americans filed claims for jobless benefits last week, according to figures from the Labor Department, indicating firings remain low.
What's more, consumer confidence climbed last week to a three-month high as households felt better about the buying climate and finances.
That improves the odds consumer spending will hold up even if business investment tanks. The question is whether that will be enough to sustain growth.
"It's hard at this point to see any catalyst for upside momentum outside of consumption," said Mulraine. "If the global headwinds continue, we expect consumption will, at best, offset those rather than provide any further boost."
Before it's here, it's on the Bloomberg Terminal.
LEARN MORE