Babymooners Ditch Exotic Travel as Zika Virus Threat Spreads
Azul airline has increased flights by 30% for an affected area

Luxury hotel on Mexico's coast get calls from worried tourists
Katie Aslesen should be dipping her toes in the crystal clear waters of Cozumel island.
Instead, the four-months pregnant Minnesota native and her husband traded their Caribbean Sea babymoon -- a vacation for parents-to-be -- for Cocoa Beach, Florida. They made the last-minute switch to escape possible exposure to the mosquito-borne Zika virus spreading across the Americas. Zika may cause babies to be born with microcephaly, a birth defect that causes brain damage and abnormally small heads.
Aslesen, 26, first heard of it "from news on Facebook, and then it was everywhere the next day: news stations, talk shows, CDC website. Not to mention the handful of family members calling, texting or Facebooking us advising us not to travel," the first-time expectant mother said. Cocoa Beach "may not be as warm as Cozumel, Mexico, but at least our child is safe."
Scientists currently can't calculate the risk that contracting Zika during pregnancy will have negative consequences for the unborn child, but soon-to-be parents and affected countries aren't taking any chances. El Salvador officials suggested women delay conception until 2018 because of the epidemic. Colombia, Ecuador and Jamaica called for shorter delays; the virus hasn't even been confirmed in Jamaica yet.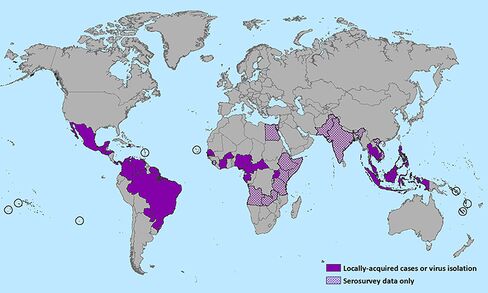 The U.S. Centers for Disease Control and Prevention has advised women to consider postponing travel to Zika-affected areas and take precautions against mosquito bites if they do go. The World Health Organization expects the virus will reach parts of every nation in the Americas except Canada and continental Chile, the two places that aren't home to the type of mosquito that spreads it.
"The possible links, only recently suspected, have rapidly changed the risk profile of Zika, from a mild threat to one of alarming proportions," WHO Director General Margaret Chan said Thursday.
Mexico, included on the CDC's travel-alert list, was one of last year's hottest babymoon destinations, according to website fitpregnancy.com, which recommends Riviera Nayarit on the country's Pacific coast, along with Kauai, Hawaii, and Sedona, Arizona, which aren't on the list.
Jay Guerrero, sales director of Colibri Boutique Hotels, a group of five luxury properties on the Mexican coast of Tulum, said monetary damage has been small so far. Mexico has 18 confirmed cases of the virus, but none in Tulum's state of Quintana Roo, the Health Ministry press office said.
"We've had a couple of cancellations, mostly from first-time moms-to-be, and calls here and there from tourists who are worried," Guerrero said. He oversees hotel La Zebra, located on the main stretch of Tulum's beach, where tourists rest on lounge chairs made from wooden-boat frames. "It's inconvenient, of course, because the cancellations are last minute, but it's understandable."
Business travel could also be affected. The spread of the Zika virus is already prompting cancellations of conferences and could place "significant pressure" on the hotel industry, Gregory Fine, global chief executive officer of the Turnaround Management Association, said at a conference in Florida hosted by M&A Advisor. Fears about the virus could contribute to a "phenomenal slowdown" in industries serving the business travel sector, Fine said.
Cancellations, Refunds
Santiago-based Latam Airlines Group SA, the largest carrier in Latin America, is allowing destination changes, cancellations and refunds for clients traveling to countries affected by the virus, as long as they present a medical certificate, according to an e-mailed statement. Gol Linhas Aereas Inteligentes SA, Brazil's biggest airline, is offering similar options, allowing pregnant clients to book earlier returns for no extra charge, it said in an e-mail.
Azul Linhas Aereas Brasileiras SA, Brazil's third-largest carrier, has increased flights by 30 percent to and from Recife, the capital of Pernambuco. More than a quarter of the 4,180 babies Brazil's Health Ministry is investigating for symptoms of microcephaly are in this Brazilian state, according to the ministry's website.
Best Solution
Azul hasn't received many requests so far to cancel or change tickets because of the Zika virus, but it is analyzing each case individually, "always looking for the best solution for the client," it said in an e-mail.
Delta Air Lines Inc., United Continental Holdings Inc. and American Airlines Group Inc. also have said they will accommodate some customers booked on flights to and from the affected countries.
Concerns about the virus have spooked cruise ship investors. Shares of Carnival Corp., the largest operator, have lost almost 6 percent over the past two days. Royal Caribbean Cruises Ltd. and Norwegian Cruise Line Holdings Ltd. are also down. Lines are allowing pregnant women and their traveling companions to reschedule or choose new itineraries, according to Patrick Scholes, an analyst at SunTrust Robinson Humphrey Inc.
Aslesen, who managed to sell her original trip to two friends, still lost $600 in the trade-off.
"At first I was pretty sad to have to switch our trip last minute, and the stress of trying to get it sold was crazy," she said. "But it all worked out in the end and we are having a great time."
Before it's here, it's on the Bloomberg Terminal.
LEARN MORE