U.S. Economy Goes Against Treasury's Strong Dollar Mantra: Chart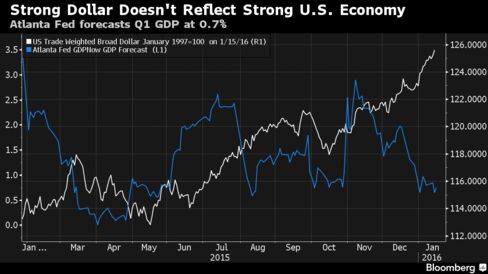 For 20 years, the Treasury Department has touted former secretary Robert Rubin's mantra that a strong dollar is in the best interest of the U.S. During the past year, the dollar's 14 percent rally against its trading partners may be too much for the world's biggest economy to handle, as shown in Federal Reserve Bank of Atlanta's economic growth model. A slowing Chinese economy is spilling over to the rest of the world, and investors are watching whether the Federal Reserve will highlight the strengthening dollar as a reason behind a cooling U.S. economy.
Before it's here, it's on the Bloomberg Terminal.
LEARN MORE