State Street Falls Most in Four Years as Revenue Hit
Custody bank announced 600 job cuts in October to cut costs

Stock is trailing BNY Mellon, Northern Trust in past year
State Street Corp. fell the most in more than four years after it reported a decline in fourth-quarter revenue and said this year's stock market turbulence might further harm the top line.
Revenue decreased 3.3 percent to $2.54 billion during a volatile period in global markets, according to a statement Wednesday from the Boston-based custody bank and asset manager. The bank reported a 17 percent increase in profit as it cut expenses, offsetting the revenue drop.
"They have real challenging headwinds on revenue growth for 2016," said Gerard Cassidy, an analyst at RBC Capital Markets in Portland, Maine.
Led by Chief Executive Officer Jay Hooley, 58, State Street said managing expenses remains a priority as the environment continues to be challenging. Custody banks have struggled with low interest rates, which erode income from lending and investments, regulatory changes and more recently volatility in financial markets. A technology push, coupled with 600 jobs cuts the bank announced last quarter, is expected bring $550 million in annual pretax savings by the end of 2020, State Street said.
State Street fell 7.2 percent in New York trading, the most since Aug. 8, 2011. The shares have trailed other custody banks in the past year, slumping 28 percent, compared with a drop of 9.8 percent for Northern Trust Corp. and a decline of 3.6 percent for Bank of New York Mellon Corp.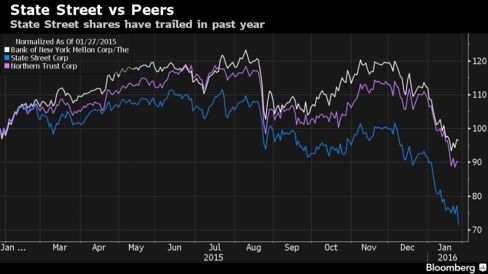 Net income in the three months through December rose to $547 million, or $1.34 a share, from $469 million, or $1.11, a year earlier. State Street said it restated the year-earlier earnings "to reflect adjustments related to certain expenses billed to our asset servicing clients."
Custody banks such as State Street and BNY Mellon keep records, track performance and lend securities for institutional investors including mutual funds, pension funds and hedge funds. The two banks also invest money for clients.
BNY Mellon last week reported earnings that beat analysts' estimates as it benefited from the Federal Reserve's interest rate increase in December, and as non-interest expenses fell. Profit at Northern Trust also exceeded estimates.
Cutting Costs
State Street is accelerating cost reductions through a technology transformation program, which involves the job cuts announced in October. The firm expects the initiative will provide $75 million in pretax savings this year and at least $125 million next year. The program will result in restructuring charges of $300 million to $400 million through 2020, which may be announced as early as this quarter.
Expenses fell 9.7 percent last quarter from a year earlier, to $1.86 billion, benefiting in part from a stronger U.S. dollar and lower costs associated with compensation and employee benefits.
State Street missed its goal to increase full-year fee revenue by 4 percent to 7 percent on an operating basis, after headwinds in global stock markets, particularly emerging markets. The bank warned in October it may not reach that target. The company said on a conference call that this year's slide in stock markets will have a negative impact on revenue.
'Continued Challenges'
"Our performance in the fourth quarter reflects the continued challenges presented throughout 2015, including challenging global equity markets, particularly in emerging markets, persistent low interest rates, the strengthening U.S. dollar, and heightened regulatory expectations," Hooley said in a statement.
State Street revised its net income in the fourth quarter to $469 million from $525 million to include expenses from reimbursing asset-servicing clients. State Street said in December that it incorrectly invoiced at least $200 million in asset-servicing expenses to clients over a period of 18 years, which it will fully reimburse with interest.
The firm agreed this month to pay $12 million to settle U.S. Securities and Exchange Commission claims that a former senior vice president helped route illicit cash payments and political contributions to win business from Ohio pension funds. State Street, which didn't admit or deny the SEC's findings, will pay an $8 million penalty and $4 million in disgorgement and interest.
Clients pulled a net $19 billion from State Street's asset management business during the quarter, bringing full-year outflows to $151 billion.
A pioneer in exchange-traded funds, State Street is also working to improve its asset-management business after its ETFs lost ground to companies such as BlackRock Inc. and Vanguard Group. It's expanding into more sophisticated offerings that produce higher fee revenue, as well as directing the products more toward retail clients. The firm partnered with MFS Investment Management in January 2014 to offer actively run equity ETFs. It's also been adding to its sales force, recently rehiring Bobby Brooks from Invesco Ltd. to head business development for the SPDR ETFs.
(
Corrects size and scope of drop in headline, first paragraph.
)
Before it's here, it's on the Bloomberg Terminal.
LEARN MORE