Problem Solved: New Consumer Spending Gauge Predicts Better January
New index seeks to predict sales based on Americans' reported market-based problems
Americans may be recovering more quickly from last year's holiday shopping spree as a new gauge shows consumer spending in January will be stronger than during the same period last year.
The Problem-Driven Consumption Index, which tracks spending based on the problems consumers are seeking to solve and how much they are willing to pay for them, declined to 160 in January from 173.9 in December. Compared with last January the index was almost 40 percent higher, signaling that retail spending may be accelerating, according to the Georgetown Institute for Consumer Research, which compiles the index.
The Commerce Department's retail sales figures for last month didn't paint such a rosy picture. Purchases at U.S. retailers slipped 0.1 percent in December, capping the weakest year since 2009 and raising concern that household spending may be losing momentum as wage gains remain elusive, it reported Jan. 15. Sales in January and February typically slow following the holiday shopping season.
For all of 2015, sales rose 2.1 percent, the smallest advance of the current economic expansion. The slowdown, including electronics stores, clothing merchants and grocers, indicates Americans probably preferred to sock away savings from cheaper fuel instead of splurging during the holidays.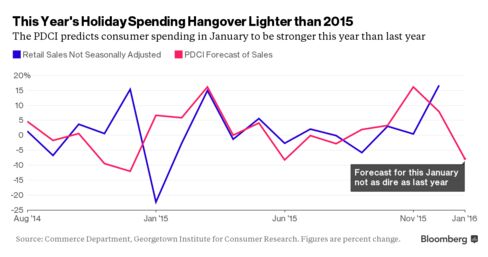 Participants in the Consumer Problem Survey indicated they'll be spending on solving "significantly more problems" in home improvement, money management and insurance domains this year, according to Brynn Lampert, a spokesperson at Georgetown University's McDonough School of Business.
The Problem-Driven Consumption Index is different from the Commerce Department's personal consumption expenditures measure, which is closely watched by economists, because it gauges consumers' problems and their ability to spend rather than measuring the price of goods and services purchased by households.
Problem-Driven Spending
Researchers draw answers from a pool of 1,100 people a month, grilling them on their most pressing short-term problems that they are planning to spend money on to solve and how much they're willing to pay. Two months later, researchers follow up with about 40 percent of those respondents to see how many participants have solved their problems or still intend to and how much they actually spent or plan to spend.
Rather than asking participants whether they're going to buy a new car or a new bike, "we are just asking people, 'where is your transportation problem? Are you planning to spend money to solve your transportation problem?'" said Kurt Carlson, a marketing professor at Georgetown University in Washington D.C., and director of the Georgetown Institute for Consumer Research. "If people's health-care problems are getting worse because they don't have money to spend or don't have insurance, it's not going to show up here."
The survey tracks a total of 267 problems in nine major categories, including health care, transportation, money management, clothing and housing.
Improved Sentiment
The Problem-Driven Consumption Index is in line with the Conference Board's index of consumer confidence. The gauge climbed to a three-month high in January, indicating that Americans are expecting higher incomes and more intend to buy cars and major appliances such as washing machines and vacuum cleaners.
Hiring, cheaper gas and rising home prices boosted consumers despite a slump in stock prices driven by everything from concern over global growth to the sell-off in oil.
Before it's here, it's on the Bloomberg Terminal.
LEARN MORE