Munich Re's MEAG Sees Danger of Heta Becoming a Blueprint
Asset manager advises creditors against accepting Heta offer

Munich Re holds low ``three-digit millions'' of Heta debt
Austria's proposal for resolving the debt debacle surrounding bad bank Heta Asset Resolution AG risks turning into a blueprint for other troubled state borrowers, Munich Re's asset manager MEAG warns.
Philipp Waldstein, MEAG's managing director and head of portfolio management, is advising investors to reject an offer by the Austrian state of Carinthia to buy 11 billion euros ($12 billion) of Heta's debt for less than face value.
Technically the state is on the hook for the full amount if Heta goes into insolvency, having guaranteed the debt before Heta's predecessor, Hypo Alpe-Adria-Bank International AG, got into trouble over bad loans linked to its rapid expansion in the Balkans.
"If we give in to Austria and Carinthia now, then who will follow suit next? Catalonia? Greece?" Waldstein said in an interview Tuesday.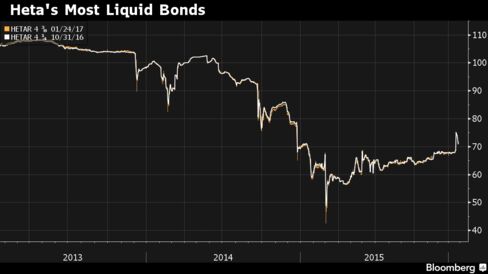 MEAG oversees about 255 billion euros of investments, including those of Munich Re, the world's biggest reinsurer, and its primary insurance unit Ergo. Munich Re has said it holds a "low three-digit million-euro amount" of the troubled lender's debt.
"We hope for a debt restructuring where, for example, Austria would basically swap Heta's debt for Austrian government bonds of a comparable amount, with the extension of the maturity being the only negotiable term right now," he said.
Carinthia has the means to pay the full amount, a group of the bad bank's creditors said in a statement last week. If they stick to a December lock-up pact, the state won't get the two-thirds acceptance it needs to force the offer, which expires March 11.
The state is offering to buy the guaranteed Heta bonds for 75 percent of face value plus accrued interest for Heta's senior debt and 30 percent for junior liabilities.
If investors don't go along, Carinthia and Heta's creditors will enter uncharted legal territory. The state's leaders say they can't and won't pay more than what they're offering. Austria's finance ministry said the federal government won't backstop Carinthia's debt.
Despite their experience with Heta and the recent rise in company defaults, investors shouldn't shun corporate debt as an alternative to government bonds, Waldstein said.
"One has to be either more selective than ever or very well diversified through specialized funds or ETFs," he said. "Following the adaption of bail-in clauses for bank debt investors, corporate debt holders need to prepare for a similar step in their space, forcing them to delve deeper into analyzing credit quality."
Earlier this month, Standard & Poor's said the outlook for corporate borrowers worldwide was the worst since the global financial crisis, citing slower growth in China and falling commodity prices. Company defaults have already climbed to the highest since 2009 and investors are demanding the biggest yield in four years to hold junk bonds.
Before it's here, it's on the Bloomberg Terminal.
LEARN MORE