China Property Assets Still Expensive, Philippine Scion Says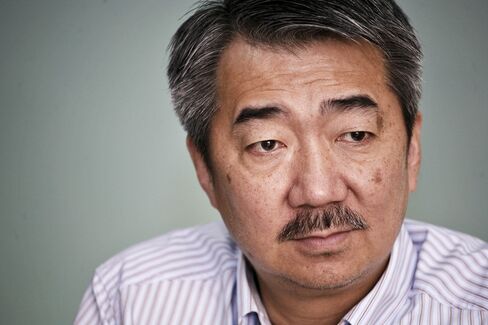 SM Prime holding off on China property acquisitions, Sy says

Plan to add one mall a year in China is still on track
Philippine billionaire Henry Sy's SM Prime Holdings Inc. said it's received invitations to bid on Chinese property companies and assets, though the developer is holding off because asking prices are too high.
"The opportunity is not yet quite there," President Hans Sy, one of the patriarch's sons, said in an interview in Makati City this week. "Give it a year or two, the right opportunity will come out. I'd rather eventually look into individual projects. That way I have better chances of knowing what we are getting into."
With China just seeing its slowest economic growth in a quarter century, Sy is among the tycoons signaling the country has yet to hit bottom. Dalian Wanda Group Co., the conglomerate headed by China's richest man, earlier this month forecast its commercial property business will see a 32 percent sales drop this year.
SM Prime has been approached by banks, multinational companies and international brokers to review Chinese property firms and their assets as acquisition targets, said Jeffrey Lim, president at SM Prime's residential unit. Neither Lim nor Sy specified which companies they reviewed as targets.
Despite its cautious stance, Manila-based SM Prime will continue to expand in China by adding a shopping mall in the country each year until reaching 10 by 2019 to help the company sustain annual profit growth of 14 percent to 15 percent for the next three years, Sy said.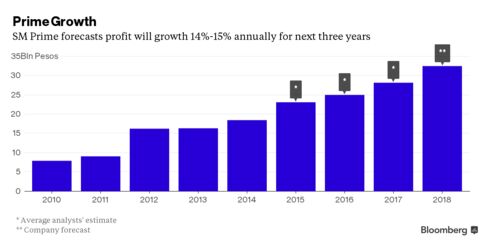 "As China slows down and property prices come off, expect SM to be opportunistic and on the lookout for acquisitions," says James Lago, head of research at PCCI Securities Brokers Corp. "While the Philippines is still probably far from reaching a saturation point for malls, China will be providing growth to SM when that happens."
The company, which entered China in 2007, currently operates six malls in the country and will begin building apartments near its mall in Chengdu this year, according to Sy, betting the project's proximity to a shopping center will make it attractive to buyers.
Beyond China, the largest Philippine builder in terms of market value is planning to add as many as six shopping malls this year at home. Sy, 60, said SM Prime plans to have 75 Philippine malls by the of end 2018, versus 56 now.
SM Prime shares rose 0.7 percent to 21.05 pesos, poised for highest close in three weeks. SM Investments Corp., parent of the builder, climbed 3.5 percent to 808 pesos.
Before it's here, it's on the Bloomberg Terminal.
LEARN MORE