Bundesbank Brings Home German Gold From New York, Paris: Chart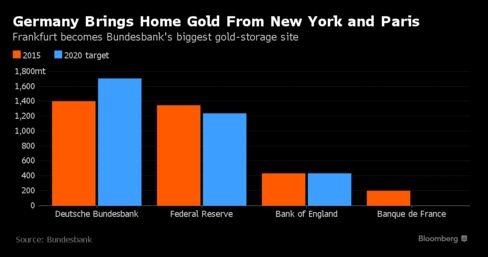 The Bundesbank transferred around 110 metric tons of gold from Paris and just under 100 tons from New York to its Frankfurt vaults last year, turning the city into the biggest storage site for Germany's reserves. The central bank plans to bring another 307 tons of the precious metal home in the next five years. That means slightly more than half of Germany's gold will be held within the country by 2020, about a third at the Federal Reserve and the remaining 13 percent at the Bank of England. None will be located at the French central bank.
Before it's here, it's on the Bloomberg Terminal.
LEARN MORE