Biogen Surges After Beating Estimates With Top Drug Sales
Tecfidera quarterly sales grow to record of $993 million

Shares gain as much as 7.7 percent, highest since Oct. 21
Biogen Inc. shares rose the most in three months on Wednesday after it said that sales of its top drug, a multiple sclerosis treatment, topped analysts' estimates and helped the company beat fourth-quarter projections amid a lackluster 2015.
Sales of the treatment, Tecfidera, rose 5.9 percent from the previous quarter to the most ever. The drug has been a focus for investors as Biogen's biggest product and best bet for near-term revenue while the company waits on clinical trials of experimental drugs. Tecfidera's sales began to slow last year after several quarters of explosive growth, and Cambridge, Massachusetts-based Biogen fired 11 percent of its workers and promised to use advertising to revive revenue.
That plan appears to be working, as sales of the medicine rose to $993 million. Of that, $30 million in the U.S. was due to increased stocking by wholesalers, Biogen said. Excluding certain items, fourth-quarter earnings rose compared with a year before, to $4.50 a share. That beat the $4.07 average of analysts' estimates.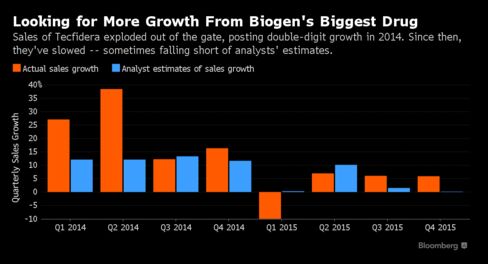 The shares rose 7 percent to $278.02 at 11:09 a.m. in New York. Biogen gave additional financial results and projections in a statement Wednesday:
Total fourth-quarter sales rose 7.5 percent from a year before to $2.84 billion, beating estimates of $2.71 billion
The company forecast that 2016 earnings, excluding certain items, will be $18.30 to $18.60 a share; analysts have predicted $18.48
2016 revenue will be $11.1 billion to $11.3 billion; analysts have predicted $11.3 billion
Before it's here, it's on the Bloomberg Terminal.
LEARN MORE