Bank Payout Obstacles Hit Scandinavia as `Aggressive' Goals Die
Scandinavia's biggest bank had, until this week, led the pack when it came to shareholder rewards. But like all good things, even Nordea's dividend pledge had to come to an end.
The target of paying out at least 75 percent of profits was a "mistake," Nordea Chief Executive Officer Casper von Koskull told Bloomberg on Wednesday. From now on, the bank's "utmost, No. 1 objective" is to be well-capitalized, he said.
The share reaction was grim -- Nordea's stock lost more than 6 percent at one point during the day. But the shift in course marks a "prudent" step, according to Lars Holm, a credit analyst at Danske Bank.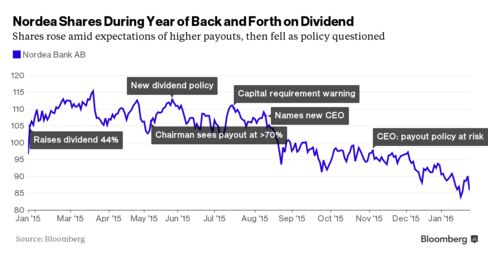 "They've been too aggressive on capital, on how much they could pay out," Holm said. "They've been running their bank on too thin a buffer to the requirements, which have been constantly increasing."
Sweden already boasts some of the world's most onerous capital requirements. But banks face the prospect of even stricter rules as the country's regulator reviews their risk weighting of assets. The agency signaled this month it may also raise the counter-cyclical buffer.
On top of a growing regulatory burden, Nordea is being pummeled by negative interest rates in Sweden and Denmark. The bank's profit fell 3.3 percent last quarter from a year earlier after net interest income dropped 8.5 percent.
"No company should have a policy of growing dividends. It should depend on earnings," Holm said. "If earnings are falling, they could be met with a payout ratio of more than 100 percent and that's not good management."
Before it's here, it's on the Bloomberg Terminal.
LEARN MORE