For Apple Suppliers That Track Its Stock, Look to Alps, TDK
Shares in Alps Electric, TDK are closely correlated to Apple's

Higher profile companies don't necessarily move in tandem
After Apple Inc. reported earnings today, it's not just investors who are poring over the results to see how the world's most valuable company fared. Hundreds of suppliers around the world pay close attention for clues about whether their fortunes are poised to rise or fall.
Which companies are most closely correlated with Apple? It's not necessarily the highest-profile or best-known suppliers. For example, Hon Hai Precision Industry Co., the Taiwanese company that makes iPhones and iPads at its factories in China and gets about half its revenue from Apple, doesn't track its customer's shares that closely in the stock market.
It's lesser known companies, including Alps Electric Co. and TDK Corp., whose shares have been most closely correlated among Asia suppliers over the last three months, according to data compiled by Bloomberg. Alps Electric makes decidedly unglamorous products such as actuators and switches for smartphones. TDK supplies batteries and inductor coils. TDK gets about 7 percent of its revenue from Apple and Alps receives about 5 percent, according to Bloomberg's supply chain analysis.
Apple shares have slid 13 percent since the last earnings report in October on concerns that iPhone sales have dropped off. Alps Electric fell 1.4 percent as of the close in Tokyo trading Wednesday, compared with a 2.8 percent gain in the benchmark Topix index. Alps cut its annual profit forecast 19 percent because smartphone component demand is not as strong as expected, it said in a statement after the market closed.
"To some extent, you've had this anticipation that Apple's numbers aren't going to look that great and this is why the likes of Alps is trading at nine times forward earnings," said Amir Anvarzadeh, a manager of Japanese equity sales at BGC Partners Inc. in Singapore. "Those earnings are more likely to be revised down."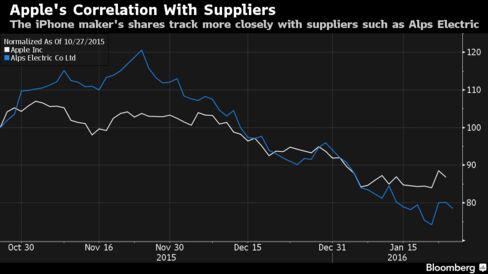 Apple forecast a sales decline for the first time in more than a decade, adding to evidence that the market for smartphones is becoming saturated and that expansion in China is no longer enough to maintain the company's unprecedented run of growth. Revenue in the first three months of the year will be $50 billion to $53 billion, Apple said, the first quarterly drop since 2003 and below analysts' estimates for $55.5 billion.
Researcher IDC predicted in December that 2016 smartphone growth will dip below 10 percent — the first time ever below that threshold. By 2019, shipments are projected to decelerate further, with sales seen rising just 4.7 percent in 2019. IPhone sales will also slow, according to IDC.
"The entire smartphone market is very weak and very mature, and the replacement cycles have been extended," said Anvarzadeh. "It's not looking too good for these component suppliers."
Apple's U.S. suppliers tend to be the most correlated, in part because they trade in the same market and in the same currency. Broadcom Corp. and SanDisk Corp., for example, have correlations of 0.52 and 0.47 over the past three months. (A correlation of 1 means that securities move in perfect lockstep.)
Among more than two dozen Asia suppliers examined by Bloomberg News, Alps Electric has the highest correlation at 0.31, followed by TDK and LG Display Co. both at 0.28. The other Asian suppliers with strong correlations include Pegatron Corp. and Murata Manufacturing Co. Supplier reactions sometimes are delayed by a day, perhaps because Asian investors wait until they can see how Apple trades during U.S. hours.