U.K. Flirts With Failed Debt Auction as Analysts Wince at Depth
Analysts study chance as Jan. 20 offer barely oversubscribed

Uncovered auction `at some point' can't be ruled out: DMO
U.K. government bonds have investors bracing for a failed sale.
An offering Jan. 20 that attracted the lowest demand in nearly seven years might be a warning sign for buyers who haven't balked at acquiring all the targeted debt since a March 2009 auction. Robert Stheeman, chief executive officer of Britain's Debt Management Office, reiterated Monday that he can't rule out an uncovered auction happening "at some point."
A potential faultline that might lead to uncovered sales was created by a medley of developments, from rising market volatility to a surge in prices that has pushed yields close to multiyear lows. Add to those a reduced ability of primary dealers to take risk, which limits them from buying bonds at auctions without immediate orders to sell them.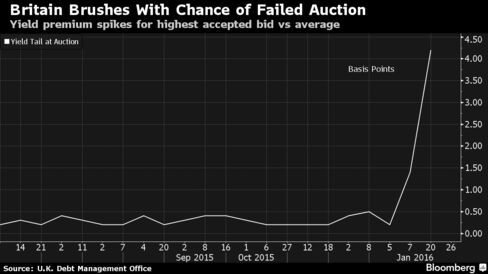 "The risk of failed auction rises when the market condition is adverse," said John Wraith, a gilt strategist at UBS Group AG in London, one of the 20 gilt primary dealers. "And the fact that market makers no longer have the kind of balance sheet they used to is an ongoing structural risk to the market. It has little to do with the fundamental demand for gilts."
The DMO, which manages offerings for the Treasury, plans to sell 127.4 billion pounds ($181.5 billion) of gilts in the fiscal year ending in March. While that's nearly half of the record 227.6 billion pounds sold in the 2009-2010 fiscal year in the aftermath of the financial crisis, it's still more than twice the average in the five years before the crisis.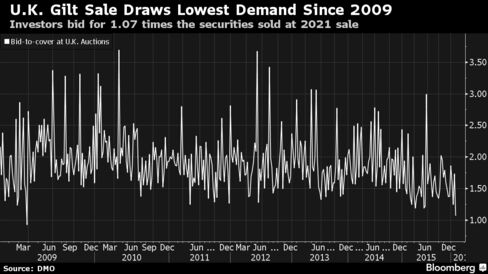 Investors bid for 1.07 times the target at the auction last week for 2021 gilts, the lowest bid-to-cover ratio since a 2009 sale of 40-year securities that missed its sales target. The 1.5 percent gilts drew an average yield of 1.117 percent, the least since May 2013.
Yield Tail
The so-called yield tail, another gauge of demand at the auction, was 4.2 basis points, about 10 times the 0.4 basis-point average tail in the previous 12 sales. The measure is derived from the difference between average accepted yields and the highest yield any investor received.
In the previous two failed auctions in 2002 and 2009, ultra-long securities with maturities of 30 and 40 years were undersold. The next auction for nominal gilts is scheduled for securities due in 2045, on Feb. 11.
Adding to bond-market woes in recent years are new regulations that are pushing up costs of capital for government-bond dealers, potentially making trading and market-making more difficult.
Bond Inventories
"I agree to a large extent with the premise that the ability of the primary dealers to run large inventories has been reduced and that means their warehousing capacity has declined," the DMO's Stheeman said. "I have repeatedly said that the chance of an uncovered auction happening at some point cannot be ruled out and should not -- as an isolated incident -- be a cause for concern."
The flagging auction demand coincided with increased interest in haven assets, as oil prices tumbled and financial markets were in relative turmoil. The combination helped push the 10-year gilt yield on Jan. 20 to the lowest level since April, while the yield on five-year gilts dropped to the least in almost a year. Earlier this month the five-year yield spread to similar-maturity German notes had already narrowed to its lowest since mid-October.
"Five-year gilts had come a long way before the auction, and yields at those levels did not offer much in terms of relative value at that time," said Peter Chatwell, head of rates strategy at Mizuho International Plc in London. "It doesn't help that they looked expensive compared with Treasuries or German bunds."
Before it's here, it's on the Bloomberg Terminal.
LEARN MORE