The Planned Parenthood Video Scandal May Be Over
A dozen states have dropped probes of fetal tissue sales. Now a Texas grand jury is charging the anti-abortion activists who started it all.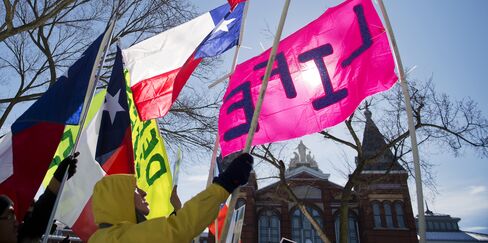 The propensity of grand jurors to do as suggested was crystallized by Sol Wachtler, a former chief judge of the New York Court of Appeals, who was famously quoted as saying a prosecutor could get a ham sandwich indicted.

A Houston grand jury investigating Planned Parenthood over allegations of illegal fetal tissue sales apparently got its lunch order mixed up. In a criminal probe initiated by abortion foes, the panel sent prosecutors an indictment in boomerang form, charging instead the conservative activists who arranged to make undercover videos of clinic employees.
Yes, it's confusing. Making matters more complicated, one undercover videographer faces a charge of tampering with a government record. (To wit: fabricating a driver's license used in the sting.) That infraction isn't unknown to teenagers of various generations who have sought illicit beverages. This one, however, could get the activist years in prison.
It turns out that Title 8, Chapter 37, of the Texas Penal Code prohibits making, presenting, or using "any record, document, or thing with knowledge of its falsity and with intent that it be taken as a genuine governmental record." A phony driver's license would seem to qualify. David Daleiden, the activist who secretly recorded Planned Parenthood employees, allegedly used the fake ID to gain access to its facilities.
Let's back up. Republican outrage over the alleged sales of fetal tissue sparked the probe in Texas, as it has in a number of other states. The recordings supposedly showed the controversial tissue sales and fueled a political firestorm, leading to demands by Congress, Republican presidential candidates, and state officials that government funding to Planned Parenthood be cut. The issue still figures prominently in the run up to the Iowa caucuses Feb. 1.
This is where the grand jury came in. Grand juries meet in secret and are generally directed by a prosecutor to consider evidence, including witnesses, and eventually, to vote on charges. They often have latitude to go their own way. Harris County District Attorney Devon Anderson said the jurors in this case flipped their focus to bring charges against Daleiden, who posed as a representative of a company specializing in procuring tissue for stem-cell research. A second anti-abortion activist, Sandra Merritt, was also charged, the prosecutor said. She noted that Planned Parenthood was cleared of any wrongdoing.

In addition to Texas, 11 other states have probed allegations in the undercover videos and cleared the clinics of any wrongdoing, according to Planned Parenthood. Eight other states declined to open probes after being urged to do so by their lawmakers.

Anderson began investigating Planned Parenthood Gulf Coast at the request of Texas Governor Greg Abbott, a Republican, who said he was alarmed by the potentially illegal activities portrayed in the videos, released last year by Daleiden's anti-abortion group, the Center for Medical Progress. Planned Parenthood's national leadership denounced the videos as deceptively edited and designed to inflame public opinion against the nation's largest abortion provider.
In a statement, Daleiden's group said it "uses the same undercover techniques that investigative journalists have used for decades in exercising our First Amendment rights to freedom of speech and of the press." A lawyer for Merritt wasn't immediately identified.
Abbott said the state's investigation of Planned Parenthood is continuing.
Before it's here, it's on the Bloomberg Terminal.
LEARN MORE