Rajan Seen Buying Extra $4 Billion of India Bonds After Outflows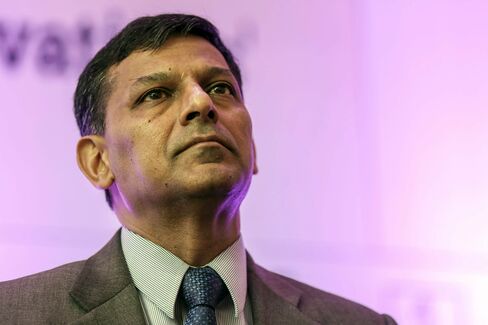 Reserve Bank revives open-market operations after two years

Analysts say cash shortage likely to persist through March
Reserve Bank of India Governor Raghuram Rajan is seen ramping up bond purchases as foreigners dumping emerging-market assets push short-term money rates to the highest since May.
The central bank began buying debt last month after a gap of almost two years and has injected a total of 200 billion rupees ($2.9 billion) via open market operations on Dec. 8 and Jan. 21. The RBI will purchase an additional $4 billion of rupee-denominated notes this quarter, according to the median estimate of seven analysts surveyed by Bloomberg News. Bank of America Merrill Lynch expects as much as $12 billion to be injected in the fiscal year ending March.
The cash squeeze is worsening as global investors pulled $1.8 billion from Indian stocks this month and as Prime Minister Narendra Modi curbs spending to meet budget goals. The benchmark 10-year yield climbed toward the highest since August, the government missed its target at bill auctions on Jan. 6 and Jan. 27, and underwriters rescued bond sales three times in two months.
"The global market turbulence has weighed on the liquidity situation in India," said Rohit Arora, an interest-rate strategist at Barclays Plc in Singapore. "The outlook will depend a lot on risk sentiment and flows from here."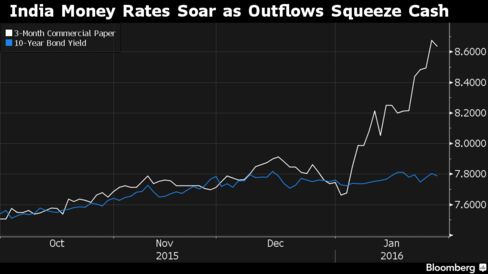 The yield on three-month commercial paper has climbed 113 basis points since Sept. 30 to 8.64 percent as of 3:23 p.m. in Mumbai, according to data compiled by Bloomberg. It closed at 8.68 percent on Monday, the highest since May. The benchmark 10-year yield has risen 25 basis points in the period to 7.79 percent. India's markets were shut Tuesday for a holiday.
Cash Crunch
Morgan Stanley estimates average banking-system liquidity was in a deficit of $17 billion as of Jan. 18, compared with a surplus in September. India Ratings & Research Pvt., the local arm of Fitch Ratings, estimates the shortfall will remain above 1.5 trillion rupees through March. Bank of America Merrill Lynch estimates the gap will be about 1.8 trillion rupees in March, and could widen to 2.6 trillion rupees unless the RBI adds cash.
In addition to conducting open-market operations, the central bank has also injected cash by selling repurchase agreements. The RBI added 218.5 billion rupees via eight-day repos and 15-day contracts on Monday, the authority said in separate statements.
The outflows have also taken a toll on the rupee, which has slumped 2.7 percent this month in Asia's worst performance. The currency fell 0.2 percent to 67.99 a dollar on on Wednesday and is within 1.3 percent of a record low reached in August 2013. India's currency reserves fell $2.8 billion in the two weeks ended Jan. 8, suggesting central bank intervention.
"If the RBI remains proactive in its approach and conducts a series of bond buybacks in coming weeks, it would be viewed positively by the bond market," Vivek Rajpal, an interest-rate strategist at Nomura Holdings Inc. in Singapore, wrote in a Jan. 19 report. "This will also help rates in de-correlating with other asset classes in case of a global risk-off environment."
Before it's here, it's on the Bloomberg Terminal.
LEARN MORE