Freeport Says No Sacred Cows in Deepening Commodity Meltdown
Metals and energy producer is in talks on potential deals

Co. wants to reduce debt by as much as $10b in multiple deals
For more than a year of the commodities slump, Freeport-McMoRan Inc. resisted giving any sign that its best assets were for sale. On Tuesday, it capitulated.
Pressed by analysts on a conference call, Chief Executive Officer Richard Adkerson said the biggest publicly traded copper producer is now considering selling any operation, in full or in part. This as he battles to convince investors, including activist Carl Icahn, that enough is being done to shore up finances in a rout that spurred five straight quarterly losses and sent the Bloomberg Commodity Index to the lowest in more than 20 years.
"The situation has developed in a negative way very quickly and aggressively and we're responding to it," Adkerson said. "We'll report to you at a time when we can be more specific, but today we can't."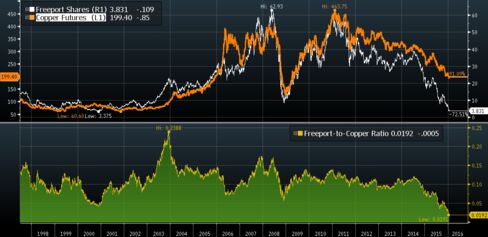 Freeport has five mining assets that are considered core to operations: Indonesia's Grasberg, Arizona's Morenci, Peru's Cerro Verde, Chile's El Abra and Tenke Fungurume in the Democratic Republic of Congo.
The company, which has about $20 billion in debt, wants to reduce that by $5 billion to $10 billion through multiple transactions. It's also looking at possible joint ventures and would even consider issuing more equity if needed. "We are engaged in active discussions with people on a number of alternative, overlapping possibilities," Adkerson told analysts.
"Stakes in Cerro Verde or Morenci could be sold at premium valuations, as could stakes in the relatively high quality El Abra and Tenke mines," Jefferies LLC analysts Christopher LaFemina and Steven Hancock wrote to clients. Rio Tinto Group, BHP Billiton Ltd. and others "would almost certainly be interested in FCX's best assets and might even consider issuing equity to fund a purchase," they wrote.
Freeport achieved its target of $2 billion in equity issuance in 2015, the company said in the earnings statement.
Shares Rally
Its shares are down 38 percent this month, almost three times the average among peers, as crude's collapse highlighted its ill-fated move back into the oil business and copper breached the $2 a pound level.
The stock rose 6.6 percent to $4.20 in New York on Tuesday.
Earlier, the company reported an adjusted fourth-quarter loss of 2 cents a share, which beat the 18-cent loss estimated on average by 14 analysts tracked by Bloomberg.
With crude down about 30 percent in the past year, Freeport is idling its three deep-water rigs and cutting oil and gas capital spending to $600 million in 2017.
Meanwhile, the company continues to look at alternatives for its oil and gas division, including a possible a sale. It raised an estimate for energy impairments to $3.7 billion from $3.5 billion, and said this could rise if the 12-month historical average price of oil remains below $50.28 a barrel.
Feeding Glut
At a time when companies such as Glencore Plc have been urging global miners to cut production, Freeport also said it intends to sell more commodities.
The Phoenix-based company boosted its estimate for consolidated copper sales to 5.1 billion pounds in 2016, compared with 4.07 billion pounds last year. It also intends to sell more gold, molybdenum and oil. The company has already cut production that is not cash flow positive, or only marginally cash flow positive, Adkerson told analysts.
If the copper market continues to deteriorate it will reassess, "but at a $2 price level, we're where we need to be," he said.
Before it's here, it's on the Bloomberg Terminal.
LEARN MORE