Italy, EU Reach Bad-Debt Deal as Bank Shares Extend Decline
After months of debate over state aid, understanding is forged

Deal aims to help banks clean up balance sheets, spur lending
Italy and the European Commission agreed on a plan to help banks offload bad debts, ending months of negotiations on how to ease the burden on the nation's lenders while staying on the right side of European rules.
Banks will be able to securitize bad loans, with senior debt tranches benefiting from a government guarantee priced at market rates, the Italian Treasury said Wednesday. The mechanism to remove soured assets will help lenders clean up their balance sheets and spur lending, the commission had said Tuesday.
Italian bank shares reversed early gains on Wednesday on concern the plan may not be enough, after swinging wildly for more than a week on worries that an agreement wouldn't be reached at all. Bad loans at the nation's banks, which have been hit by record-low interest rates and a struggling economy, reached a high of 201 billion euros ($217 billion) in November, while the doubtful loans the Italian five largest banks haven't provisioned for will exceed 120 billion euros.
"The Italian version of a bad bank is very different from government-funded bad banks set up in other EU countries, and as such is likely to be a less powerful tool to clean up banks' balance sheets," a Citigroup Inc. team including Giada Giani and Guillaume Menuet wrote in a report Wednesday. "Its effectiveness remains to be ascertained."
Watered Down
The deal effectively waters down an original Italian project to create a bad bank vehicle amid concerns by the European Union that disposals could constitute illegal state aid. The agreement was announced Tuesday after a meeting in Brussels between Italian Finance Minister Pier Carlo Padoan and EU Competition Commissioner Margrethe Vestager, following months of negotiations.
The plan "should assist Italian banks in the process of securitizing and moving non-performing loans, currently on their balance sheets, to separate, individually managed entities," the commission said. "These state guarantees are to be provided and priced at market terms and therefore will not constitute state aid."
Market Pricing


"It's a little odd that the Italian government has wasted some 12 months in reaching an agreement on the 'bad bank' which, at the end, will pursue a 'market price' mechanism with, it seems, no discount for banks," said Fabrizio Bernardi, a Milan-based analyst at Fidentiis Equities.
Banks selling their bad loans will be able to package the debt in securities and purchase a guarantee from the government for the investment-grade portion to make the debt more appealing. The state will charge the cost of credit-default swaps on similarly-rated Italian entities on the guarantees. Credit ratings firms will be asked to grade the debt tranches based on the cash flow from the pool of securitized debt.
"The voluntary nature of the non-performing loan disposals will bring Italian banks to start off-loading the best-covered part of their portfolios," such as "exposures with the oldest vintage," Mediobanca SpA analyst Antonio Guglielmi wrote in a note. "Market fears of potential rights issues will therefore be a function of the magnitude and the speed of the clean-up."
The FTSE Italia All-Share Banks Index slid 2.5 percent at 1:30 p.m. in Milan, outpacing the 1.8 percent drop by the pan-European Stoxx Europe 600 Banks Index.
Banca Popolare di Milano Scarl and Banco Popolare SC reversed earlier gains, declining 2 percent and 4.3 percent respectively. Unione di Banche Italiane SpA fell 5.5 percent. Banca Monte dei Paschi di Siena SpA, the bank with the highest exposure to bad loans compared with tangible equity, gained as much as 7.3 percent before paring that advance to 3.3 percent.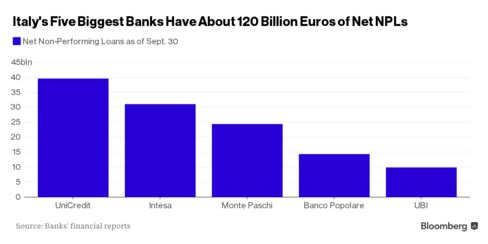 Before it's here, it's on the Bloomberg Terminal.
LEARN MORE