CoCo Holders Need to Know Where the Tripwires Are, EBA Says
EU law is unclear on how capital rules affect coupon payments

EBA's Farkas says supervisors expected to implement opinion
Investors in the $98 billion market for banks' riskiest debt have a right to know when the decisions of supervisors put their income in peril, said Adam Farkas, executive director of the European Banking Authority.
The EBA said last month that banks should be required to disclose any capital requirements set by supervisors that could limit their ability to pay coupons on contingent convertible bonds, known as CoCos, as well as dividends and bonuses. That puts the London-based regulator at odds with the European Central Bank, which wants bank-specific supervisory decisions to remain confidential.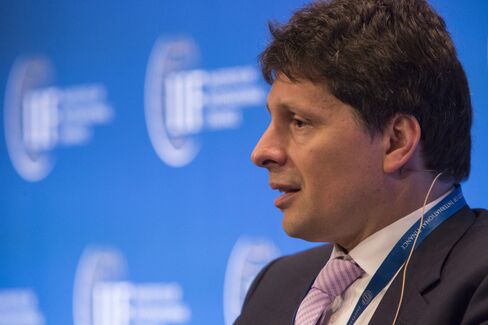 Farkas said in an interview that the EBA's Dec. 16 opinion should be implemented as part of European Union supervisors' annual review and evaluation of banks, culminating in so-called Pillar 2 requirements, which go beyond the EU regulatory capital rules applied to all banks in the 28-nation bloc.
"Our expectation is that at the end of this cycle, supervisors will make this public," Farkas said. "If an investor buys an instrument where the payment is conditional on something, there is a very reasonable expectation that this key information will be transparent."
Buffer Requirement
EU law sets limits on banks' payment of dividends, bonuses and additional Tier 1 debt coupons when they eat into their capital buffers. The limits are intended to conserve capital, helping struggling institutions to regain a solid footing. When a bank fails to meet its combined buffer requirement, it must calculate the so-called maximum distributable amount, which determines restrictions on payments.
If additional capital requirements set by supervisors have to be met before the combined buffer requirement, this would divert capital that could be used to fill buffers, making a breach and possible cancellation of a coupon payment more likely.
Yet the law doesn't specify if this calculation should factor in Pillar 2 capital charges. The EBA's opinion was intended to rectify this.
"For the sake of clarity toward the investors who buy these instruments, more transparency is needed as to when this particular trigger is reached," Farkas said.
'Disclosure Obligations'
The ECB, which oversees euro-area banks, said that its approach to the maximum distributable amount "refers to the opinion published by the EBA," though this "might nonetheless be revisited."
When asked to clarify if this meant the ECB would follow the EBA's call for disclosure of bank-specific decisions relevant to payments, a spokeswoman said such decisions "are not expected to be disclosed to the public, notwithstanding other legal disclosure obligations institutions might be subject to."
Banks in Italy have been told by market regulator Consob to disclose their Pillar 2 requirements. In Spain and France, lenders began to publish them after the EBA published its opinion.
While the EBA's opinion isn't binding, the regulator does expect national authorities to take it into account when applying EU law.
"This is an EBA opinion agreed by the EBA board," Farkas said. "Thus, there is an expectation that competent supervisory authorities follow the agreement."
In its opinion, the EBA also called on the European Commission, the EU's executive arm, to review the bloc's bank-capital law with the goal of clarifying the rules on maximum distributable amount.
"Our suggestion is that the commission should open" the law "and clarify it," Farkas said. "We are trying to achieve the same effect with this opinion, but it's helpful if it's clear" in the law itself.
Before it's here, it's on the Bloomberg Terminal.
LEARN MORE