Cash Tainted by Riksbank Policy Becomes Growth Lever for One CEO
Swedish banks have a complex relationship with cash these days.
The Riksbank's negative policy rate has made it costly to hold deposits. The country's four main banks -- Nordea, Handelsbanken, SEB and Swedbank -- all say they won't pass that cost on to retail clients, forcing them to take billions of kronor in losses as long as rates remain below zero. But there's one bank executive who's eager to hoard deposits.
"We'd love it if they would send that money and those clients our way," Klas Danielsson, the chief executive officer of state-owned mortgage lender SBAB, said in an interview in Stockholm on Monday. "Ship them here."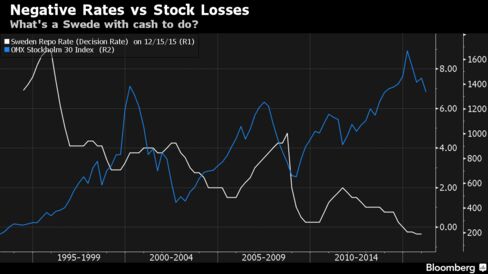 SBAB wants the deposits for stable funding, which it hopes will improve its credit rating. The bank saw a 15 percent increase in household and corporate deposits last year. Danielsson says growth may reach that level again in 2016. Deposits are equivalent to 26 percent of SBAB's loans, compared with as much as 50 percent at some banks. "We can continue to grow our deposit-to-loan ratio for the foreseeable future," he said.
Though rated in the As, SBAB still carries a lower credit grade than its biggest competitors in Sweden at Moody's Investors Service and Standard & Poor's.
"It's very, very important for us to have a mix in the funding because if we have a mix with different sources, we get higher confidence from the credit rating companies and that strengthens our possibility to get confidence from the market and from investors," Danielsson said.
Swedish retail deposit accounts pay savers virtually nothing. But Swedes have continued toplace their surplus cash in banks, rather than investing in a stock market that has seen a grim start to the year. Swedish benchmark stocks have lost about 8 percent since the end of December. Since mid-February, when the Riksbank first cut its benchmark rate below zero, the main share index has slumped about 18 percent.
To attract deposits, SBAB pays 0.65 percent to regular households, while clients that hold mortgages with the bank get 0.80 percent on their savings. Danielsson says the bank is also drawing corporate clients away from its competitors. SBAB offers "almost as good an interest rate" to companies as it does to households, giving it "big scope to grow" in lending to businesses, he said.
Before it's here, it's on the Bloomberg Terminal.
LEARN MORE