Aquino's Historic Peace Accord in Limbo as Election Looms
Deal seeks to end bloody, four-decade insurgency in Mindanao

Mineral-rich area risks becoming haven for Islamist militants
Time is almost out for Philippine President Benigno Aquino to get his signature peace deal with Islamist militants through Congress, with his bid to end a four-decade insurgency and revive a region that holds half of the country's mineral reserves floundering.
A probe to be reopened Wednesday into a deadly clash between police and militants in the southern province of Mindanao is set to revive memories of a botched raid a year ago that left 44 elite commandos dead and sapped support for the accord. With a Feb. 3 congressional recess looming, and presidential elections in May that will end his six-year term, Aquino's legacy as a peacemaker is in doubt.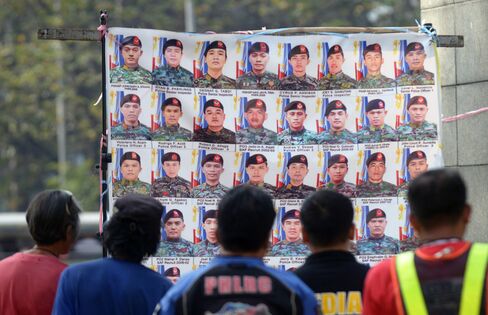 "It's an uphill battle and the president is running out of time," said Ramon Casiple, executive director of the Institute for Political and Electoral Reform in Manila. "Aquino will be the greatest loser" politically if Congress fails to pass it.
Aquino signed the accord with the Moro Islamic Liberation Front in 2014, capping almost two decades of talks aimed at ending a conflict that has killed more than 200,000 people and ravaged the economy of a region rich in gold and copper. Aquino's departure will leave the agreement without a champion and in the hands of a new government amid growing fears over Islamist extremism.
Undermining Security
"Foreign and domestic investors have indicated huge enthusiasm about the prospect of a more stable Mindanao," said Eufracia Taylor, Asia analyst at risk-consulting firm Verisk Maplecroft. "Bombing of electricity infrastructure and commercial operations by other militant groups will continue to undermine the security and business environment."
The region accounts for about 14 percent of the national economy and Mindanao is estimated to have more than $300 billion of mineral reserves, including about 3.4 billion tons of gold and 5 billion tons of copper, according to advocacy group Panaghiusa. Untouched by development, miles of white-sand beaches could put the region on the tourism map.
The country's second-largest island, Mindanao is also home to many of the Philippines' 5 million Muslims, and has produced a separatist insurgency demanding autonomy in a nation where more than 80 percent of the population is Roman Catholic.
Road Map
The peace pact provides a road map for a new autonomous entity called Bangsamoro, whose structure will be defined by Congress. Under the deal, MILF must lay down its arms and abandon its pursuit of a separate state in return for more power, control of natural resources and territory.
The leading candidates in the presidential race are split on the accord. Vice President Jejomar Binay has said Aquino's government has no monopoly on peace, and any deal must respect the constitution; Senator Grace Poe is leading the push for the new probe into the botched raid, and Rodrigo Duterte, the crime busting mayor of Mindanao's Davao City, has lobbied for federalism, rather than autonomy, to solve the Mindanao conflict.
"I wish, I hope that this would have been concluded," Mar Roxas, Aquino's former interior minister and presidential candidate, said in an interview Monday. "One of the biggest challenges that we have for national growth, as well as in particular, Mindanao growth, is the peace and order situation in Mindanao."
Kidnappings, Extortion
The agreement has languished in Congress for more than a year, with only a quarter of Filipinos supporting the bill, according to a poll by the Social Weather Stations in March 2015, two months after the failed raid and death of the commandos. The subsequent rise of Islamic State has fanned more backlash about compromise in Mindanao, a region that is home to other Islamist groups such as Abu Sayyaf that aren't party to the deal.
Abu Sayyaf has carried out bombings, kidnappings, and extortion -- both for financial gain and to promote its jihadist agenda. Militant groups in Mindanao have also offered protection to extremists from other parts of Southeast Asia. The botched police raid was targeting Zulkifli bin Hir, a Malaysian bomb-maker linked to the 2002 Bali bombing who was being protected by a MILF splinter group.
"ISIS ideology could become more attractive if Mindanao continues to be economically and politically neglected," Maplecroft's Taylor said, referring to Islamic State. "While it appears unlikely, local militant groups could stage an attack in Manila similar to that in Paris or Jakarta -- a pertinent and tragic example of the danger of local cells embracing the ISIS ideology even if direct links to the group remain ambiguous."
Before it's here, it's on the Bloomberg Terminal.
LEARN MORE