What If Women Boycotted the Oscars?
It could be a way to get studios to listen to concerns about gender pay disparity.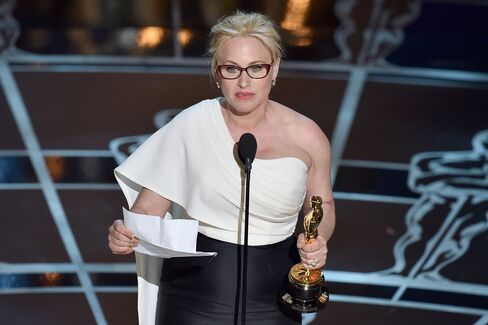 The Academy of Motion Picture Arts & Sciences said that it plans to take "historic action" to increase diversity in its ranks after actors of color threatened to boycott the Oscars to protest a second straight year of all-white acting nominations. Who knows if the steps will help or how quickly things will change, but it's an encouraging sign. What if women in Hollywood tried the same thing?
Earlier this month we learned from actress Gillian Anderson that she was initially offered half of what her male co-star David Duchovny was to reprise Fox TV show The X-Files, which premiered last night.
"As usual," she told The Hollywood Reporter, "they come to me with half of what they want to offer David." (Anderson and Duchovny ended up being paid equally.) To add an extra layer of insult, Anderson revealed in a separate interview that it had taken her three years to get paid the same amount as Duchovny the first time the X-Files aired, in the 1990s. "It was shocking to me, given all the work that I had done in the past to get us to be paid fairly," she told The Daily Beast. "I worked really hard toward that and finally got somewhere with it. … And then it happened again! I don't even know what to say about it."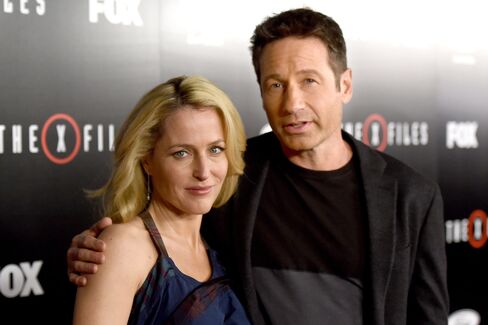 This comes after a string of other female actors have recently spoken out, loudly, about one of the oldest problems plaguing women in the workplace, the gender pay disparity, which still sits, on average, at 21 percent.
Jennifer Lawrence, famously, found out that she made less than her male co-stars in American Hustle after Sony Pictures was hacked and its internal e-mails leaked. When she read in horror about her and the other actors' paychecks, she blamed herself for not negotiating harder in the first place. "I would be lying if I didn't say there was an element of wanting to be liked that influenced my decision to close the deal without a real fight. I didn't want to seem 'difficult' or 'spoiled,'" she wrote in Lenny. "At the time, that seemed like a fine idea, until I saw the payroll on the Internet and realized every man I was working with definitely didn't worry about being 'difficult' or 'spoiled.'
"I'm over trying to find the 'adorable' way to state my opinion and still be likable!"
Others in her situation have also recently complained, including Kathy Griffin, Reese Witherspoon, Patricia Arquette, and Jessica Chastain. And almost all of them agree that if more women were making important decisions at film studios and driving and directing the movies themselves, the situation would improve. According to the Director's Guild of America, women directors made only 16 percent of the 3,900 television episodes produced in 2014-15 (only 3 percent of the 16 were non-white women) and 6.4 percent of movies in 2013-14.
"It's a bigger issue than money; that's just a byproduct," Sandra Bullock told Variety. "Down the red carpet, I'm going to be asked about my dress and my hair, while the man standing next to me will be asked about his performance and political issues," Bullock says. "Once we start shifting how we perceive women, the pay disparity will take care of itself."
One way to avoid being asked silly questions about your hair, of course, would be to refuse to show up in the first place. If all the women in Hollywood did that together, the Academy Awards would melt down so fast that people would have to listen to what they have to say.
Before it's here, it's on the Bloomberg Terminal.
LEARN MORE