Support for Vonovia's Deutsche Wohnen Offer Looks Shaky: Chart
Vonovia SE's attempt to buy Deutsche Wohnen AG for 9.3 billion euros ($10 billion) in cash and shares is looking shaky, according to Norddeutsche Landesbank analyst Michael Seufert. Germany's biggest residential landlord has only secured tenders for 20.7 percent of its competitor's shares. It needs at least 57.1 percent, including convertible bond holders, for the deal to succeed.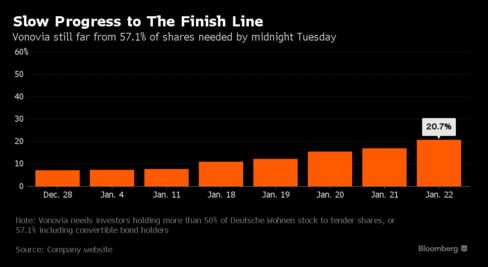 The low number means Deutsche Wohnen is winning the support of shareholders to remain independent, Chief Investment Officer Lars Wittan said. Vonovia said the figure isn't meaningful, because big investors like to tender their shares at the last minute.
Shareholders have until midnight Tuesday to tender their shares. If the deal succeeds, it will be Germany's second-biggest hostile takeover, after Vodafone Group Plc's 185 billion-euro acquisition of Mannesmann in 1999, data compiled by Bloomberg show.
Before it's here, it's on the Bloomberg Terminal.
LEARN MORE