PineBridge Sees Eskom Bond Value on Record Premium to Sovereign
Spread over state debt surges to more than 500 basis points

Eskom in South Africa's biggest borrower after government
Concern over the financial health of South Africa's state-owned power utility has raised the premium investors demand to hold its debt over that of the nation's to a record. That's created a trading opportunity, PineBridge Investments said.
The premium investors seek to hold Eskom Holdings SOC Ltd.'s dollar bonds due in February 2025 instead of similar-maturity government notes jumped to 541 basis points on Jan. 20 and was at 431 on Tuesday. State-owned ports and rail company Transnet Holdings SOC Ltd.'s 2022 debt trades 184 higher than the sovereign, while Russian energy giant Gazprom PJSC is 200 over similar-dated government securities.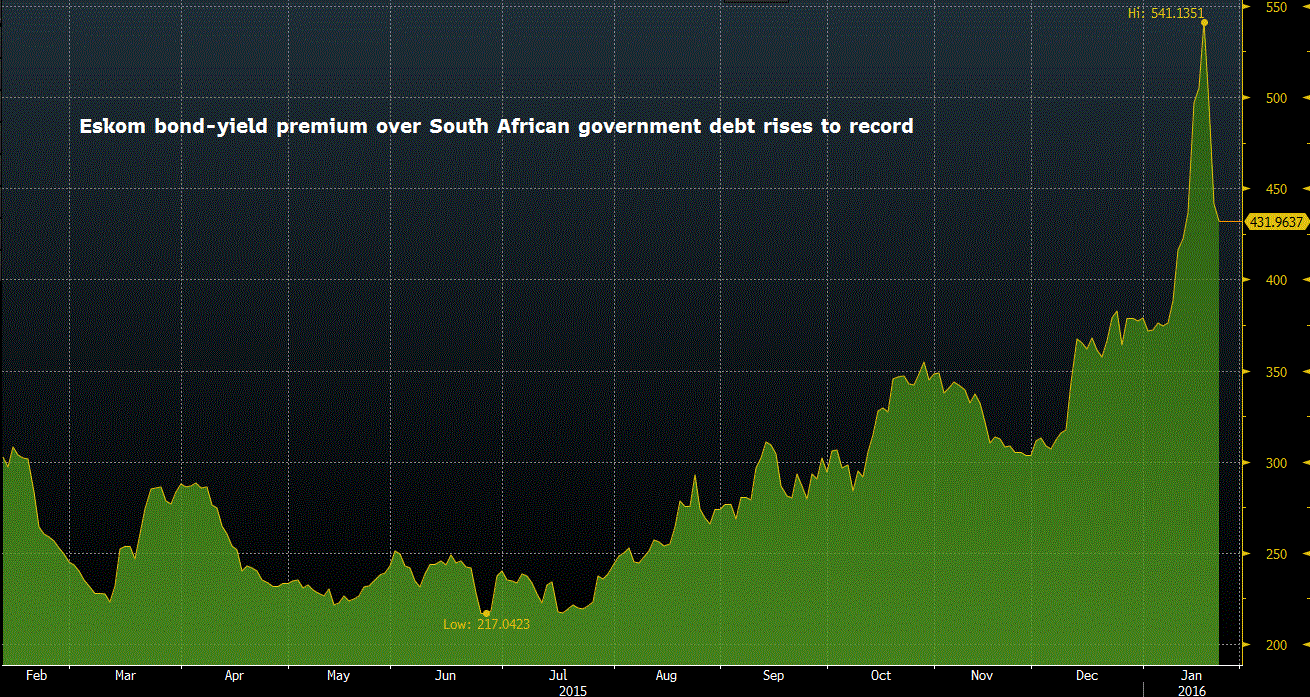 Debt costs for Eskom, the nation's biggest borrower after the state with $22.8 billion in long-term borrowings and interest, have risen after downgrades to junk by Standard & Poor's ratings companies and Moody's Investors Service as it struggles to raise money to build power plants. The company, which provides about 95 percent of power to Africa's most-industrialized economy, needed a 23 billion-rand ($1.4 billion) state bailout last year as its costs spiraled and it battled to generate enough electricity.
Higher Tariffs
"Eskom has a particular set of issues, which partly explains why they trade so wide and it looks interesting," said John Bates, a senior vice president at PineBridge in London, which has $78 billion in assets under management. He declined to disclose whether it holds the utility's debt. "Eskom bonds should trade 250-300 basis points wide of the sovereign -- for a quasi-sovereign borrower to be trading at nearly twice this level is quite unusual."
Forced blackouts across part of the country almost every other day in the first half of last year, together with low global demand and falling metals prices, stifled the nation's growth in 2015. While power prices have risen almost fourfold since 2007, the utility needs to charge higher tariffs to cover its expenses and fund the 237 billion rand in additional finance it needs in the five years to 2019.
Electricity supply has now stabilized, with only one interruption in the past six months. Generation has become more consistent under the leadership of Brian Molefe, who was appointed last year after the chief executive officer, head of finance and two other senior executives were suspended amid an inquiry into Eskom's cash problems. Molefe is the company's sixth CEO within a decade. Caroline Henry resigned as treasurer this month after a decade in the role and 22 years with the company.
Markets are questioning sovereign-backed bonds "in a harsh way," said Lutz Roehmeyer, director of fund management at Landesbank Berlin Investment. "Not much makes sense anymore in terms of relative pricing. Investors are expecting the worst, and that translates into selling pressure, with few buyers."
Eskom's media office didn't respond to an e-mailed request or call for comment.
Increase Request
The utility has asked the National Energy Regulator of South Africa, which sets the prices that the company can charge for power, for permission to recoup 22.8 billion rand of unbudgeted costs for the year through March 2014 by raising tariffs more than first allowed from April 1. If successful, rates may increase by an additional 8.6 percentage points over the already-approved average of 8 percent. Inflation was 5.2 percent in December.
Business and municipal organizations say consumers shouldn't be forced to pay for Eskom's planning errors.
"Electricity prices are already high," the City of Cape Town municipality, which oversees South Africa's second-biggest city, said in its presentation to the regulator. "Any additional increase approved by Nersa will have a further negative impact on Cape Town's economy and all its customers."
Before it's here, it's on the Bloomberg Terminal.
LEARN MORE