Love of Coke Persists After Mexico Tax in Boon for Bond Traders
Mexico purchases of Coca-Cola Femsa sodas post rebound in 2015

Company's bonds sidestep selloff in emerging-market debt
Mexico's two-year-old tax on junk food is failing to dent its citizens' love of sugary drinks, and that's good news for bond investors in Coke bottler Coca-Cola Femsa SAB.
The company is sidestepping a rout in global debt markets after reporting a rebound in purchases of soft-drinks in 2015 that erased the drop it suffered a year earlier, when the levy took effect. Latin America's largest Coke bottler has seen its $3 billion of notes gain 1.6 percent this month, versus an average loss of 1.7 percent for emerging-market bonds.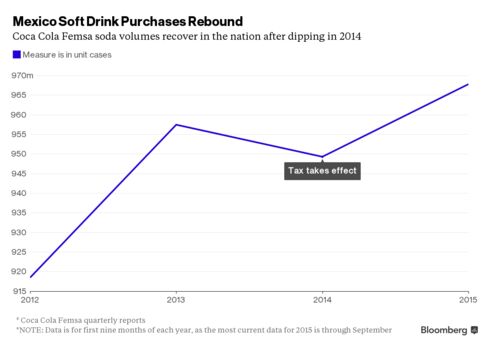 Coca-Cola Femsa can thank the lowest inflation rate in almost half a century for the resurgent demand for its beverages in Mexico, the world's top Coke-consuming market, said Patrik Kauffmann, who helps manage $11 billion of assets at Solitaire Aquila Ltd. With the cost of living rising at such a slow pace, consumers are proving more willing to pay the 1-peso per-liter tax the government imposed as part of its anti-obesity efforts.
"If you have the habit of always drinking Coca-Cola, you won't stop because it costs one peso more," Kauffmann, who doesn't own the bonds, said from Zurich.
The inflation rate in Latin America's second-biggest economy fell to 2.13 percent at the end of 2015, the lowest since 1968. That compares with a year-end rate of 4.08 percent in 2014.
After volumes fell in 2014, they've shown a positive trend through the third quarter of 2015, the company said in an e-mailed response to questions. Taxing one ingredient won't solve Mexico's health problems, instead "a broader and more integrated plan is required," the company said.
President Enrique Pena Nieto imposed the sugary-drinks levy, as well as an 8 percent tax on junk food, to help stem a growing health crisis in a nation with the highest obesity levels in North America and Europe. The levy includes some beverages that don't fall under the category of sodas, while not all sodas have enough sugar content to be taxed. Mexico's Finance Ministry declined to comment on whether the tax has been effective.
Barry Popkin, an economics and nutrition professor at the University of North Carolina in Chapel Hill, said inflation and rising remittances may help counteract the effect of the taxes and argues for an even higher levy.
In the year through November, Mexicans received $22.6 billion from relatives overseas, the most since 2008, according to the central bank.
Popkin co-authored a study by the university and Mexico's national health institute that showed purchases of sugary drinks in the Latin American country dropped by 6 percent in 2014.
"If people get richer, if there are more remittances, that could be the effect," Popkin said by phone, referring to an increase in soda sales.
Private organizations with their own anti-obesity efforts supported Mexico's levy, including those funded by Bloomberg Philanthropies, which is controlled by Michael Bloomberg, the majority shareholder of Bloomberg LP, owner of Bloomberg News.
Mexico's peso slipped 0.6 percent Monday to 18.5433 per dollar at 12:43 p.m. in New York.
The drop in inflation helped boost Mexican consumers' purchasing power, according to Jose Antonio Cebeira, an analyst at Corporacion Actinver SAB who has a hold recommendation on the company's shares.
"The result is that foods that are considered a necessity in Mexico, such as soft drinks, have benefited a lot," he said from Mexico City.
Before it's here, it's on the Bloomberg Terminal.
LEARN MORE